Most people are celebrating some kind of holiday this month. We will be celebrating Christmas this weekend in our home. I feel like I am so far behind in the preparations! Normally I would have had our photo card and update letter out by now. Oh well, too much going on this year.
Whether you are celebrating Christmas, Hanukkah, Kwanza or some other special holiday, you may find some of our favorite brunch recipes helpful. The Hashbrown Breakfast Casserole is our usual Christmas morning fare, but this year I am making the Overnight Apple French Toast. These recipes can be found here:
Another holiday recipe you might find helpful comes to us directly from the Crock Pot Girls. If you haven't found these gals on Facebook yet, you will be pleasantly surprised. They are masters at Crock Pot recipes and this breakfast casserole is no exception.
Crock Pot Breakfast Casserole
1 package diced frozen hash browns
1 lb breakfast sausage
8 oz diced ham
Fresh baby spinach (a couple "handfuls")
1/2 cup fresh chopped mushrooms
1 cup chopped onions
1 can Rotel
18 eggs
1 cup cheese
Salt and pepper
Lightly brown breakfast sausage (it should still be partially raw… just brown enough to be able to crumble the meat). Layer half of the hash browns in the bottom of slow cooker, followed by 1/2 of sausage and 1/2 of ham. The next layer will be all of the baby spinach, the mushrooms, and onions.
Repeat the first 3 layers (hash browns/sausage/ham), and then top with a can of rotel. Whisk the 18 eggs in a bowl, then pour over top. Sprinkle cheese over top of casserole and cook on low for about 8 hours!
Fun Family Tradtions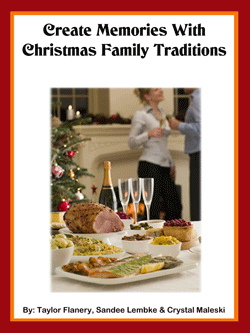 Don't forget to download the Family Traditions ebook. Last chance! In this 15 page ebook you will find:
Some of our favorite holiday Christmas family traditions we have established with our families
A checklist to help you come up with your own family traditions
Tips on making your own natural decorations and centerpieces
Unique gift wrapping techniques and
More edible homemade gift ideas
You can download your free copy here Fun Christmas Traditions. Enjoy!