Hello again, Theme Party Queen friends! I have been away for many months rehabbing a house with my husband, Bryan. After almost a year of hard work, we finally moved in to our new home (well, new to us!) on October 20th.
Selling the home where we raised our children has been emotional, but we are passed that now and I am ready to get back to the business of posting interesting party tidbits and recipes here, on Pinterest, on the Theme Party Queen website and on the Facebook page for you to enjoy.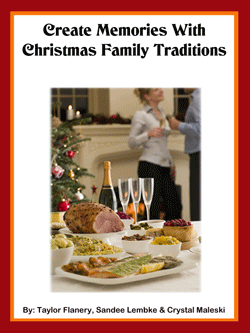 Thanks to all of you who have stuck with me during this transition. As a token of my appreciation, I am offering you a free copy of a small ebook that I wrote with two of my friends called, "Create Memories With Christmas Family Traditions."
In this ebook, Crystal, Taylor and I share some of our favorite holiday traditions we established with our families, tips on making decorations and centerpieces with natural items like pinecones, unique gift wrapping techniques and some edible homemade gift ideas you can easily make in your kitchen.
You can download your free copy here: Fun Holiday Traditions. I'll continue to post this link throughout the holiday season.
Holiday Recipes
I just wanted to bring some recipes to your attention that might come in handy this holiday season. My page on side dishes has a few of my favorites, including my Mom's stuffing recipe and a Crock Pot cranberry recipe that I made for the first time last year. I will definitely be making it again this year. I loved it. Here's a link to that page:
What's New
I briefly mentioned Pinterest above. You might find some of my boards worth following. I'm getting quite a good selection of Pinterest recipes and party ideas pinned and also have a great gluten free Pinterest board started as I've been trying to reduce my wheat intake. Several other boards too.
Pinterest has become one of my favorite past times. There are so many great ideas I have to limit the amount of time I spend or before I know it, an hour has gone by! If you are there, stop by. I'd love to see your boards too.