Mom's Turkey Stuffing Recipe
And Other Side Dishes
When I was a kid, I can remember my Mom making this turkey stuffing recipe. It was unusual because it had sausage in it and most of the other recipes at the time were made with gizzards and other disgusting parts of the bird. I was not into that at all so I loved my Mom's recipe.
When I first got married, I called her and asked her to jot down the stuffing recipe. I still have the original, handwritten piece of paper.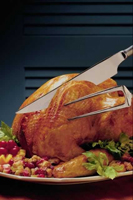 When my kids were little, I wanted to get everybody involved in our Thanksgiving Day dinner preparations so I handed out jobs to everybody. My husband volunteered for turkey and stuffing duty and has been in charge of both ever since.
He's had so much practice over the years that he's mastered my Mom's turkey stuffing recipe and we all look forward to eating it on Thanksgiving day.
In addition to following my Mom's sausage bread stuffing recipe below, he also makes a special batch for our vegetarian children that he cooks outside the bird. For them he uses vegetable broth and obviously no sausage. It is still outstanding.


Turkey Stuffing Recipe For a 20 lb. Turkey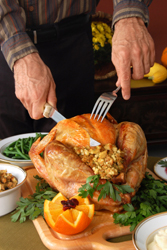 1 pound sausage, like Jimmy Deans or Bob Evans
1/2 green pepper, chopped
1/2 small onion, chopped
4 stalks celery, chopped
1 egg
1 slice bread per pound plus 6 for the pot, torn up. I substitute 2 bags of Pepperidge Farm Cornbread Stuffing Mix
1 tsp seasoned salt like Lawry's
1 tsp poultry seasoning
1 can broth, chicken or vegetarian
First, brown sausage with green pepper, onion and celery in a medium skillet. Dump into large bowl.
Add egg, bread slices (or stuffing mix) and seasonings. Slowly add broth until desired moistness. If you like it wetter, just add a little bit of water. Mix well.
Stuff the turkey and follow cooking instructions for turkey. This turkey stuffing recipe can also be baked outside the bird. Just spray a baking dish with cooking oil and turn into dish, cover and bake at 350 degrees for 1 hour.
Thanksgiving Side Dish #2 - Two Potato Roast
My daughter has mastered the art of roasting cubed potatoes. When she was in college, she worked at Red Robin and brought home their famous seasoning salt.
Her favorite way to make roasted potatoes is to cube them, throw them on a sheet pan, drizzle with oil and sprinkle with the seasoning salt. She roasts them at 400 degrees for about 25 minutes and all the room mates devoured them.
I love roast potatoes too, but like to switch it up a bit by combining different potatoes and using a variety of herbs. Here is one of my favorite combos.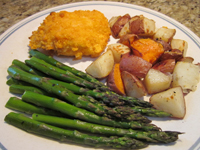 1-1/2 pounds medium red potatoes, cut into 1 inch cubes
1-1/2 pounds peeled sweet potatoes, cut into 1 inch cubes
2 tablespoons oil (I use Canola)
1/2 teaspoon garlic powder
1 teaspoon course salt
1/4 teaspoon cayenne pepper
Preheat oven to 400 degrees. Lightly spray jelly roll pan. Mix potatoes, oil, rosemary, salt and pepper. Roast 15 minutes, stir, then roast an additional 5 to 10 minutes until potatoes are tender and browned. The cayenne pepper is a great addition with the sweet potatoes.
This side dish works well with almost every meal. In the image above, I served the Two Potato Roast recipe with Roasted Asparagus, another great side dish, and Cheez It Salmon.
Thanksgiving Side Dish #3 - Apple Filled Acorn Squash
This is an elegant dish perfect for a special occasion, especially as a Thanksgiving side dish. The squash is sweet after baking so it pairs nicely with the tart apples.

3 acorn squash, halved lengthwise and seeded
4 tart apples, peeled, seeded and sliced
2 tsp lemon juice
3/4 cup brown sugar
1/4 tsp. ground ginger
Salt and fresh cracked pepper to taste
6 tablespoons butter
Preheat oven to 350 degrees. Place squash halves, cut sides down, in a buttered baking dish. Bake 35 minutes.
Combine apples, lemon juice, brown sugar and ginger. Turn squash over and sprinkle with salt and pepper.
Fill with apple mixture, then dot with butter. Return to oven for another 25 minutes. This Apple Filled Acorn Squash recipe is a great way to dress up squash.
I made this recently for Thanksgiving. The apples were still kind of crunchy after baking so if you prefer softer apples, I recommend sauteing them before stuffing. Just a personal preference.
Also, just before serving, I cut the pieces in half to serve eight people.
Thanksgiving Side Dish #4 - Crock Pot Cranberry Sauce
This recipe for Crock Pot Cranberry Sauce is outstanding! It was easy to make, looks absolutely beautiful on the table and goes well with everything including the turkey sandwiches the next day. This recipe is a keeper.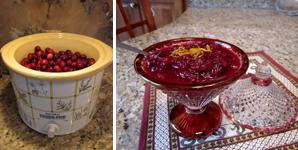 1 cup orange juice + zest of 1/2 orange
16 ounces cranberries, fresh or frozen
1/2 tsp cinnamon
1-1/4 cups sugar
Pinch of ground cloves
Put all in Crock Pot, stir well and then cook 2 to 3 hours on high until liquid is syrupy.
Using the back of a wooden spoon smash the cranberries slightly and during the last half hour, crack the lid to help it thicken up.
Refrigerate until you are ready to serve. It will be runny when it's hot but thickens up beautifully when cold.
NOTE: When I served it, some people thought it was too tart. You may want to adjust the sweetness depending on how you like it. Also, I had a visitor tell me that she made this on the stove top and it was just as good.
Thanksgiving Side Dish #5 - Rosemary Root Vegetables
Love, love, love this side dish recipe! Works well with a warm dinner and leftovers are delicious in a salad the next day.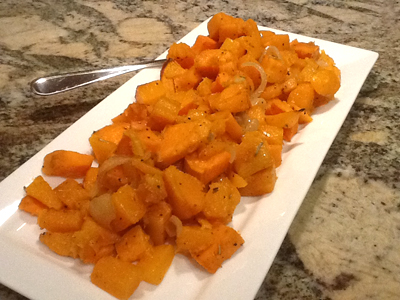 1 Butternut squash, seeded, peeled and cut into 1 inch cubes
1 sweet potato, peeled and cut into 1 inch cubes
One onion, peeled and sliced into 1/2 inch slices
2 tablespoons oil (I use Canola)
1 teaspoon dried Rosemary
1 teaspoon Kosher salt
Fresh cracked pepper
Preheat oven to 400 degrees. Peeling and seeding squash is challenging even for the best cooks so if you are lucky enough to have a Sams Club nearby, you can buy 2 lb packages of already-peeled butternut squash which is what I used in this picture.
Dump the squash onto a cookie sheet and add the cubed sweet potato and the sliced onion. Next, drizzle with the oil then add the salt and pepper. For the Rosemary, put it in the palm of your hand and pinch it between your fingers to break the needles up a bit. This makes them smaller, of course, but it also releases the oils which brings out the flavor.
Using your hands, mix everything up well so the oil coats all. Spread the veggies out so they are in a single layer and put the tray in the oven.
After 15 minutes of baking, the veggies should begin to brown. Stir them around and bake for an additional 5 to 10 minutes until tender but not mushy. This batch should feed 4 people easily.

Other Thanksgiving Side Dishes
Want a stuffing alternative? Try substituting my Mom's recipe for the Cranberry Wild Rice Casserole below. I have used it inside the turkey and out and it's good both ways.
Cheesy Party Potatoes
Loaded Mashed Potatoes
Cranberry Wild Rice Casserole
Scalloped Pineapple
Roasted Asparagus
Dilled Carrots
Warm Cinnamon Applesauce
Need some ideas for hosting stress-free Thanksgiving dinners? My friend published a fantastic 31 page ebook that has everything you need to know, including some of her favorite side dish recipes.

I have my very own copy and let me tell you, it is packed with great little tidbits that she uses in her own kitchen. Download your copy here.
***z-christmas-ebook.shtml***