Hello Again!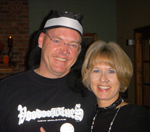 My husband Bryan and I were at a Halloween party over the weekend. Here we are in our biker attire. We tasted several excellent Fall recipes but my favorite by far was one called "Baked Brie With Brown Sugar."
You are probably familiar with some version of this recipe, but this one is different because the good stuff is on top of the pastry instead of inside. Ooooey-gooey goodness dripping down all the way around.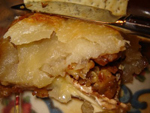 I also like this recipe because it tastes like baklava but can be prepared without the hassle. Pastry, brown sugar, honey, pecans and BUTTER. Lots of it.
Plus the recipe can easily be altered to make it your own. Try it as written the first time, then if you want to, switch out the pecans for walnuts or add cranberries and other dried fruit. All would go well with the pastry-sugar-butter-honey base. A perfect appetizer for a Fall party.
Stop by and check out the recipe for Brie Baked With Brown Sugar and Pecans. Leave a comment and let me know what you think. Am I crazy or is this one a keeper?