Apple Caramel Dip
This easy fruit dip uses store bought caramel and staples that you probably have in your pantry. It goes perfectly with crispy, tart apples especially Granny Smiths.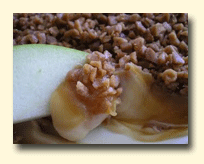 2-8 oz. packages cream cheese, softened
1/4 cup brown sugar
Tub of caramel dip
1/4 cup toffee bits
1/4 cup pecan pieces
Sliced apples of choice
Mix cream cheese with brown sugar. Spread in your favorite serving dish. Pour caramel dip on top of cream cheese mixture and top with toffee bits and pecan pieces.
Serve with apples. To keep apples from turning brown, dip them in a mixture of lemon juice and water immediately after slicing.
Click here for more Party Recipes.