Greetings



You have received this email because you opted in to receive the Party Queen Ezine, a newsletter delivered periodically from Theme Party Queen.com. The purpose of this newsletter is to pass along interesting theme party tips and to let you know what's new at the website.
Halloween Recipes for Kids
Party Tip
When my kids were little, we always looked forward to the Halloween parties at their schools. We loved watching all the kids parade up and down the halls in their Halloween costumes while the parents giggled and looked on.
After the parade, the kids would all file back into their classrooms for the annual Halloween party. The room Moms were in charge of the party and would organize games, crafts and spooky snacks for the kids to enjoy.
I remember the difficulty of trying to find snacks that the kids would love, that were not too sugary and were easy to make.
Last night I was at an adult Halloween party and saw the cutest "fingers" made out of sugar cookie dough and they reminded me of all those classroom Halloween parties from so long ago. Boy do I wish I had an easy recipe like this years ago.
Although I no longer have to worry about classroom parties, I thought some of my Party Queen friends might benefit from this idea so I am passing it along. Here is a picture of my friend Gail holding one of them. You can see the platter in the bottom left corner of the picture. They are definitely not just for kid parties!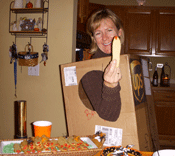 Ghostly Halloween Fingers
One roll of sugar cookie dough
Slivered almonds
Food coloring (optional)
Roll out the dough until it is 1/2 inch thick. Cut into 3 or 4 inch slices and shape like fingers and place on cookie sheet. With a knife gently score the dough where the knuckles would be.
Press a almond into each finger to make the fingernails. If you want colored fingernails, use food coloring of your choice and paint it on the almonds.
Bake 4-6 minutes until lightly golden brown.
What's New
Halloween is less than a week away. Don't forget to visit our Halloween pages for great costumes, decorations and recipes. Start on the Halloween Party Ideas page and link to other Halloween pages from there.

Happy Halloween to you and your family!

Also, two new web pages have been created which I have received several emails about. The first is called My Personal Journey which is my story about how and why I created Theme Party Queen.com and the second is called Site Build It! which goes into more detail about the tools that working Moms all over the world use to create websites, like mine, and gain personal freedom.

If you are interested in learning more about my story, check out both of these web pages.
Until next time...happy partying.
Take some time today to visit Theme Party Queen.com. We do what we do for you!