My name is Sandee Lembke and I consider myself to be one of the most fortunate women in the world. I have the most wonderful husband and two of the brightest kids on the planet. I can say that because I am their mother.
Check out this slideshow of me and the "Fam" (as my son would say).
Not only do I have a great family, but now I have an internet business that I absolutely adore. Here is the story of my personal journey.
From the Beginning
My husband and I met at Michigan State University and soon married. Not long after we married, our son was born and we could not have been happier. He is so very special to me, not only because he is my first born child, but he is truly a treasure.
Good looking and smart, funny and sensitive, athletic and environmentally conscious, plays a mean guitar, is a great son, brother and grandson and all around an outstanding human being. A mother could not ask for a better son.
When he was 18 months old, I got a job at General Electric Company and began the struggles that every mother experiences. Struggling to get the laundry done, the grocery shopping done, juggling multiple doctor appointments, cooking dinner and doing all the things that a mother needs to do to keep a household running smoothly.
My husband is incredibly helpful but still it was overwhelming. The worst part was always feeling guilty because my time with my son was so limited.
He was growing like a weed and I was spending time in corporate America away from him. It was a constant internal struggle. I knew I needed to work so we could get ahead, but my heart was broken because my son was with somebody else during the day. I felt like I was missing everything.
But I was a good little soldier and did what I had to do, right? Chin up!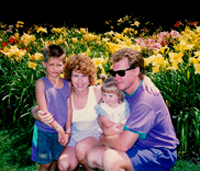 Three years later, my daughter came along. Another brilliant child! She is as beautiful internally as she is externally. What a special young lady she is to me.
A dynamo that knows how to get things done effortlessly, a great friend, daughter, sister and grandaughter and can sing like a bird.
I was still working for GE so I went out on maternity leave and had to return after only 6 weeks or risk losing my job. Handing your baby over to somebody else at 6 weeks of age is pure torture.
Again, I soldiered on, thinking there had to be a better way. Wasn't there some way that I could earn a living AND stay home with my kids?
Things Were About to Change
Even though I loved working for GE, it was a constant internal battle trying to keep the guilt and yearning at bay. Eventually I cracked and asked for a part time job. I knew it was career suicide, but it was the only way I was going to be able to keep a job and take care of my family the way I thought I needed to.
I was lucky enough to be able to keep my part time job and things got easier at home but the whole time I kept racking my brain trying to think of a way that I could earn money and raise my family without it being such a struggle.
What? Laid Off?
Then came the news that the division of GE where I worked was closing its doors and everyone was going to be laid off which I eventually was. I found myself out of a job and on a severance package for almost a year. During this time I considered what I would do next.
I had always been interested in scrapbooking and rubber stamping and I thought that I might be able to start an on-line business of some sort. I read everything I could get my hands on including a book about Affiliate Marketing. I thought I had a pretty good plan but then I got stuck.
Start an on-line business? Was I crazy? I knew absolutely nothing about creating a website let alone a profitable business!
I became so paralyzed with fear that I chickened out and went back to work in the safe environment of corporate America, this time at Sears Holdings, the company that owns Sears and Kmart stores. Things started out pretty smoothly there but soon all hell broke loose in my personal life.
Personal Tragedy Strikes
First my Grandma died, then 11 months later my Mom passed away unexpectedly. In the same year, an aunt died of pancreatic cancer and my father-in law and my Dad began having all sorts of medical issues.
Just when my kids were old enough to lessen the guilt of being away, now I had the guilt of not being with my loved ones when they needed me because I was spending all my time at work. Sound familiar?
I worked at Sears for 2 years, struggling with my personal life the whole time. Another guilt-ridden battle. Finally, I gave in and quit having absolutely no idea what I would do next. Luckily my husband was very supportive during this time.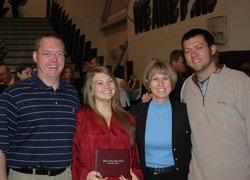 At this point, my son had been in college for a couple of years and my daughter was finishing her last year of high school. I decided to stay home with her that last summer before she too, headed off to college.
During that summer, my Dad took a turn for the worse and thankfully I was able to spend 3 weeks nursing him back to health without worrying about a job.
What Now?
Come September, it was time to get back to work. This time I was going to look for something that was less demanding and closer to home. I remember feeling very trapped and slightly panicky.
I knew I needed to make an income because my husband and I have two kids in college, but how was I going to make money and keep a flexible schedule?
One day, I took out a piece of paper and wrote down the following goals for my next job:
A flexible schedule that allows time with family, to be able to maintain a social life, to work out and to take care of my home
A job in the area
To earn enough money to offset college expenses and bills
To be able to travel when relatives need me
Less susceptible to layoffs
I spent the entire month of September trying to find such a job. As I became increasingly more frustrated in my search, the old idea of starting an on-line business began rearing its head again. This time, I started poking around on the internet learning more about Affiliate Marketing, that is, earning a commission selling other people's goods.
I had been intrigued by Affiliate Marketing for years. It sounded like the perfect way for me to start out. Basically, you promote other people's goods on your website and when the customer clicks on a link to buy, they actually go to the merchants site for order fulfillment. I loved the idea of that because I would not have to maintain or ship inventory.
But again, how was I going to even begin? I knew very little about Affiliate Marketing and I knew absolutely NOTHING about building a website.
Finally, a Breakthrough
One day I was in Barnes and Noble just walking around and happened to go down a certain aisle where the business books were displayed. I glanced at a shelf as I walked by and literally stopped in my tracks.
There, staring straight out at me, was a book called, "Make a Fortune Promoting Other People's Stuff Online (How Affiliate Marketing Can Make You Rich), by Rosalind Gardner.
I don't know if it was because I was so desperate for a solution to my job situation or if it was because I had just been reading on-line about Affiliate Marketing. Whatever the reason, I was drawn to this book the second I spotted it.
Serendipity?
As corny as it sounds, it was like the book jumped off the shelf and into my hand. I swear it was divine intervention and I was not about to leave the store without that book.
I took it home and read it cover to cover in a couple of days, highlighting interesting points along the way. The book taught me Affiliate Marketing from a high level. Just a little bit of information about a lot of different topics and boy was I hungry for more when I finished that book.
I immediately typed Rosalind's name into Google and started searching for every piece of information I could find which is how I came across her website NetProfitsToday.com and eventually hit on The Super Affiliate Handbook, or what I like to call, the Bible of Affiliate Marketing.
I bought The Super Affiliate Handbook and devoured it just as quickly as I did the first one I read. Both books were the beginning of personal freedom and independence for me. I have learned so much from this woman. She is truly one of my heroes.
By the time I finished both of Rosalind's books, I felt like I had a pretty good grasp on Affiliate Marketing concepts, but was I ready to put that knowledge to the test?
I talked with my husband about what I had learned and we agreed that rather than trying to find another job outside the home, my time was better spent trying to get a home-based web business going.
I was so afraid that I was going to chicken out again because I have always earned an income outside the home and I didn't even know what I was doing! But I made the critical decision to just do it afraid.
If I was ever going to make this work, meet my goals and gain independence, it was now or never. But I still had the huge hurdle of not knowing a single thing about building a website.
I went back and re-read a portion of Rosalind's first book about website creation. She mentions several different solutions for people like me which I strongly considered for several days going over the pros and cons of each.
The Fog is Beginning to Clear
It was about this time, I'm embarrassed to admit, that I spent some of my hard earned cash on a couple of get-rich-quick-schemes. You know, the ones where they promise to teach you how to get a website up and running overnight so you can begin making millions of dollars immediately?
Just about the time I figured out I had been scammed, I remembered what Rosalind had said about Ken Evoy's flagship product called "Site Build It!", also known as SBI!, and decided to research the product.
Some of the phrases that she used really stuck in my head, like "SBI! eliminates the need to learn HTML" and "it has extensive training in how to build and manage an effective Internet marketing business" and "the SBI! Forum is one of the most helpful and supportive forums you will find on the net."
Okay, I was almost sold. This SBI! thing sounded pretty good. Could this product really be the answer to my prayers? I needed a closer look so I typed "SBI" into Google and immediately came upon their site.
Introducing My Parachute
I quickly found Ken Evoy's video where he talks about the theory behind Site Build It! What caught my attention right from the start was Ken stating that there is no such thing as building an effective business overnight.
It is hard work and takes time and if anybody tells you otherwise, you are getting scammed.
I gained a huge amount of respect for Ken and his products from that day forward. This guy is telling it like it is instead of trying to push products, I thought. Straight talk, no BS. I like that.

I watched all of the testimonial videos on the site and came away with the very clear impression that, although it would be hard work, the people at Site Build It! were going to be there to help me every step of the way. That was exactly what I needed to hear at that point in time.
I was terrified, remember?
I felt like I had just jumped off a cliff and was desperately looking for a parachute. Turns out, SBI! became my parachute.
Site Build It! to the Rescue
I had known for quite some time that building a successful internet business was the way to meet my goals, but I had already made a couple of mistakes buying get-rich-quick-schemes so I was hesitant to spend any more of my hard earned cash.
For several days, I read everything I could get my hands on about SBI!. The following comments really jumped out at me:
You do not need to be Net-marketing savvy, nor do you need to be brilliant or technically-minded. Okay, I really liked the sounds of this one because I am NOT technically minded at all and that was one of my biggest concerns.
You will not read insulting words like "Get-Rich-Quick." No false promises like "fast and easy." In fact, SBI! owners are "The Anti-GetRichQuick." Very reassuring since I had already gotten scammed with these exact insulting words.
You will read words like "working smart" and "knowledge" and "passion" and "time investment" and "flexibility" and "community" and "support" and "guidance" and "monetization." I loved this comment because I had the passion for sure and was definitely ready to work hard, I just needed some support and community.
No Search Engine expertise required -- no expensive tech, Web or graphic consultants are necessary. The complete set of tools makes it simple to build "it." Again, because I was unsure of my technical abilities, I really needed help in this area.
Do your business and thrive, in a tenth of the time, at a tenth of the price... When I read this one, I thought about how many times in my life I tried to take a short cut and it ended up costing more of my valuable time and hard earned money. I didn't want to make that mistake again.
Building a REAL business takes some work, yes. SBI! reduces that by 90% because it handles all the tedious, difficult and technical barriers. But you still have to bring BAM ("Brain And Motivation"). Only a human can bring that part. I mentioned before how much I appreciate SiteSell (company that makes SBI!) telling customers upfront that building a business is HARD WORK as opposed to making it sound like it can be done overnight just to sell products.
SiteSell's credibility sky-rocketed when I read these comments and really solidified my decision to purchase Site Build It!
Look What I Have Accomplished!
It has been almost a year since I purchased SBI!. Everything that I read before I bought it has come true. It has been hard work, no doubt, but just as they promised, SiteSell has been with me every step of the way.
Take a look around my site and you will see just how far I have come from corporate America. My business is really starting to take off and I am getting visitors from countries all over the world. Imagine where I'll be a year from now!
UPDATE April 2012: I have two SBI websites now, this party site and Free-Website-Tutorials.com, a website specifically designed to help others build a website. SBI! has taught me so much over the past 4 years that I am now helping others do the same!
I will continue to work hard to make this a profitable venture because it meets all of my goals. Personal freedom, independence, security, time with loved ones and an income made in the privacy of my own home.
The best part is that I wake up every day with a new sense of empowerment and independence. Can you imagine a job that you can not wait to get back to? I never thought I'd see the day.
Even when my body is exhausted from sitting in front of this screen all day, my mind is still churning with all the possibilities. Ideas, ideas, ideas! They just keep coming.
The internet world is at my feet and I owe it all to Rosalind Gardner,
Site Build It! and all of the generous people I have met in the SBI! Forums who have selflessly given their time and energy to people like me. I could not have done this without them and I will be forever grateful.
If Only I Had Found Them When My Kids Were Younger
If you would like more information about SBI! and Rosalind Gardner, below are a couple of links to help you on your way. With these two powerhouses covering your back (SBI! for technical stuff and support) and Rosalind (for Affiliate Marketing know-how and support), you can not go wrong.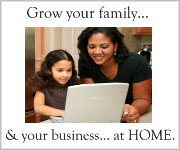 Site Build It!
Building a profitable on-line business takes time and energy. Thankfully, Site Build It! is ready and waiting to help you with all the technical, tedious tasks that need to be done so you can focus on more important things. To learn more about this incredible product and find several free reference guides, visit my web page dedicated to Site Build It!.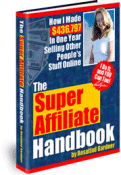 The Super Affiliate Handbook
This is where it all began for me. Read the amazing true story of how Rosalind Gardner earns over $500,000 per year just by selling other people's stuff online.
No inventory to hold or ship. A huge relief to most internet business owners including me!
The Super Affiliate Handbook will teach you the fundamentals of Affiliate Marketing including:

How to sign up with affiliate networks
How to pick the best affiliate programs
Which products and services to use for web hosting, picking domain names and building your website
Rosalind has a way of paring down information into bite size pieces which is so helpful when you are learning a huge topic like Affiliate Marketing. Within a couple of months of buying this ebook, I started this Theme Party website and haven't looked back.
To learn more about how she does it, visit my page dedicated to Rosalind's Super Affiliate Handbook.