Can You Really Build a Website Using Site Build It?
Read My Review and Decide For Yourself

Ever since I shared My Personal Journey with my visitors, I have received many emails from people who are where I used to be. Stuck in Corporate America and looking for a way out.
Most of the emails come from Moms struggling to raise a family while working full time outside the home. They completely understand what it feels like to be pulled in so many different directions, not really feeling good about any single area of their lives.
It is to these people that I dedicate this Site Build It Review
(aka SBI!). And to anybody else looking to do work from home, earn some extra cash, gain personal freedom and spend more time with loved ones.
In addition to reading my testimonial, here is a video from a woman who also built a profitable on line business using Site Build It!. Now she has the freedom to stay home with her son and travel with her husband all while making money on line.
Let me start by saying there is definitely a difference between building a web site and building a profitable web site. And there is a difference between building a profitable website and building a profitable business.
Unfortunately, I had to learn this the hard way.
I wasted a lot of time and hard-earned money on get-rich-quick schemes only to find out later how wrong I was. I can now admit that I was completely seduced by fancy TV ads, slick websites and empty promises.
Thanks to Site Build It! (parent company SiteSell), I now know that it is impossible to build a successful web site and business over night. It takes hard work, perseverance and dedication.
If anyone tries to tell you differently, hang on to your money and run for the hills. Do not be fooled like I was.
Anybody can get web site hosting for $3.95 and build a website, but will it be a profitable internet business or simply a website with some bells and whistles? Will you have support when you need it?
If you are just trying to build a personal website to share family stories and photos, SBI! may not be for you, but if you are trying to create a serious internet business, I wholeheartedly recommend Site Build It!

Learn more about building a successful internet business, one where you can work from home, by reading the SBI! Overview. This is the first SBI! webpage I found when I was doing my initial research.
If you are more of a visual learner, you may enjoy watching these SBI! Informational Videos instead.
It is important to note that Site Build It! is not only for newbies but for experienced internet marketers as well.
For newbies: Site Build It! provides everything needed to build a profitable business from scratch except brains and motivation (BAM).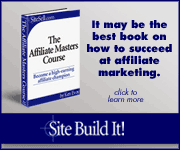 The right way, the first time.
For anyone new to internet marketing, SiteSell is generously offering a totally free Affiliate Masters Program which shows newbies how to build a traffic-generating theme-based content site. Get your free copy of the Affiliate Masters Program.
From brainstorming and researching profitable keywords, to building search engine-ranked, keyword-focused web pages using CTPM, to establishing profitable pay-per-click campaigns, this course provides all the information needed for anyone to build a successful affiliate business.
Site Build It! takes care of the technology and eliminates the complexities allowing newbies to focus on their business. Just what I needed!
I am living proof of how SBI! can help a person who knows absolutely nothing about building an internet business, and I mean NOTHING!
View SBI! Video Testimonials from other people like me.
For experienced marketers: There is a myth that SBI! is just another web site building tool. I can tell you from personal experience that it goes way beyond that.
This page about
SBI! Features
helped solidify my decision to buy the product. It is clearly NOT just a web hosting or site building solution.
Site Build It! is a full service, complete package of tools for newbies and experienced marketers alike. Follow the Action Guide (here's a peek) that comes with Site Build It! as I did, and you will be well on your way in no time.
And read some SBI! testimonials for real life case studies.

Remember, if you are serious about building a profitable business, there is more to it than just slapping up a website. SBI! will help you do it right the first time.
ATTENTION GRABBER: 35% of SBI! sites rank in the top 1% of all sites for traffic. 53% are in the top 2%. 62% score in the top 3%."
Browse through hundreds of SBI! Top 1% Sites.
Only people who have purchased SBI! are allowed to post in the Forums and the support you get is unsurpassed in the world of internet marketing. I regularly mine the Site Build It! Forums for all sorts of great ideas and always receive prompt, very thorough responses to any question that I ask.
And when you get stuck or discouraged, which you inevitably will at times, it is nice to know that you can get support and reassurance when you need it the most.
From people who completely understand what you are going through because they have been in your shoes. Love that.
When you are learning something so radically different, it is very reassuring to know that you are not on an island. You are only a click away from the most generous group of people on-line."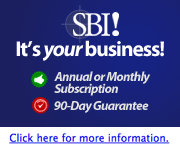 Site Build It! costs $299 annually which works out to be about $30 per month.
Unlike some of the other "solutions" I have had the displeasure of working with, the annual subscription fee includes EVERYTHING. No hidden costs. No BS.
When I decided to go for it, I set aside a certain amount of money that I could afford to spend on this venture.
After a year, I am happy to report that I am no where near spending what I thought I would because Site Build It! does what it promises. Period.
Try the "pay-as-you-go" option. Order it now and pay only $29.99 per month to try it out. If for ANY REASON you decide it is not for you, SBI! will refund your money in full. You have nothing to lose and everything to gain. Start realizing your dreams today!
I can not even count how many times over the past year that I thanked my lucky stars for having chose SBI! over some of the other half-baked solutions.
There were times when I wanted to pull my hair out because I was stuck on something. It took me a while to realize that all I had to do was consult the SBI! Forums or SBI! support and magically my problem was resolved and I could move on with peace of mind.

Do not be discouraged by the annual fee. SBI! is currently offering the option of paying by month. For just $29.99 per month, you can try it out and pay as you go. If it doesn't work out for you, take advantage of their full money back guarantee (more on that below).
I can personally assure you that you will never find a better value if you are truly interested in building a business and working from home especially if you are a busy mother. SBI! has helped thousands of mothers better manage the work-home balance by helping them work from home.
If it is your desire to work from home so you can spend more time with your kids, SBI! can help you achieve your goal. For inspiration, start by reading your free copy of the Masters Course For Moms written for mothers by mothers.
SBI! offers a Full Money Back Guarantee if you buy.

Here are Ken's (founder) exact words:
"If you decide (at any time) it's not for you, simply tell us. It does not matter why. We'll refund you right away." Check out the order form and full guarantee here.
If you decide to purchase SBI!, you will learn very quickly that "Content is King." In other words, the more quality information that you provide your customers, the more likely it is that they will come back over and over again.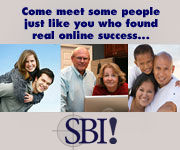 With that in mind, I dedicated most of my time to building quality content. For the past year, I tried to build at least 2 or 3 pages a week. Sometimes I could only manage 1 page. Sometimes I surprised myself and did 10 in a week.
The point is, the more time you spend, the faster you are going to build a content-rich site which is what you are striving for if you are going to be successful. For some people, this may happen in 6 months. For others, it may take longer.
After researching SBI! and watching the Testimonials of SBI! Owners in particular, I had a pretty good idea that I needed to follow my passion.
It has been said over and over again, that building a successful business is hard work, and the only way to sustain your motivation is to pick a topic that you are passionate about.
EVERYBODY knows something about something. EVERYBODY has interests and passions that can be turned into a profitable
internet business.
I kept repeating to myself, "What am I good at? What do I really enjoy?" I considered a few different interests as potential site topics, but I decided to focus on one in particular.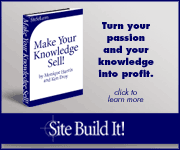 As my children got older, I found more time in my schedule to entertain. I became known as the "Martha Stewart" entertainer among my friends because I love to host parties.
I love everything about it. Planning the menu, cooking, decorating and providing a comfortable environment for my friends and family to socialize. I realized that I truly have a passion for entertaining and that's why I chose theme parties as my topic.
If you really sit back and think about it, you will find a topic that you are knowlegeable and passionate about just as I did. What is it?
For more information about writing on a topic you love, click here and read the free guide called Make Your Knowledge Sell.
Well SBI! is right up your alley then. I have mentioned several times that I am the least technical savvy person you are ever going to meet, yet amazingly, I was able to follow the SBI! instructions step by step and build the site that you are looking at today.
Trust me, if I can do it, anybody can.
See how SBI! guides you through the whole process, step by step by taking this very informative SBI! Video Tour.
UPDATE Dec 2010: SBI! helped me build the site that you are currently on and I have also started my second SBI! website. Check out Free-Website-Tutorials.com, a website specifically designed to help newbies build a website. SBI! has taught me so much over the past 3 years that I am now helping others do the same! Amazing.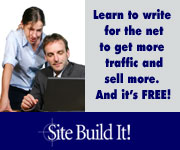 Many people have expressed concerns about their writing abilities. It is true that you have to be able to write clear, grammatically correct sentences, but it is really quite easy to learn the basic skills you will need for internet writing.
There are certain techniques that work better than others and you will need to know what they are.
Before I got started, I read Netwriting Masters Course which SiteSell generously offers totally free of charge.
If you are at all concerned about your writing abilities, I highly recommend reading Netwriting Masters Course before you begin.
Two things really helped me make the final buying decision:
A phone call with an SBI! owner. Before I purchased Site Build It!, I read almost every SBI! web page, and I remember not being able to find the answers to a couple of questions that I had.

Although I don't recall the questions now, I remember calling an SBI! owner and got the answers that I was seeking BEFORE
I purchased Site Build It! which is rare in the industry, I believe.

Click here to Contact an SBI! Owner.

Money Back Guarantee. Really, what did I have to lose? The way I looked at it, even if SBI! turned out to be just another get-rich-quick scheme, they offer a full money back guarantee.

I had way more to gain (personal freedom, a way to earn an income from home, more time with loved ones...) so I went for it and haven't looked back since!

Click here to learn more about the SBI! Guarantee and how to order.
If you are ready to begin a new, independent life like I have, click here to order SBI! now.
Commit to doing the work, really investing your time and energy into building a profitable business, and I promise SBI! will help you every step of the way. You will not regret it.
Feel free to contact me. I have had a lot of helpers along the way and would be happy to help you in any way I can.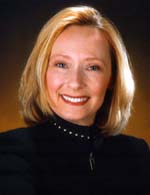 For another great resource that I refer to regularly, check out Rosalind Gardner's Super Affiliate Handbook.
This is where it all began for me. Read the amazing true story of how Rosalind, with no previous business experience, earns over $500,000 per year just by selling other people's stuff online.
No inventory to hold or ship. A huge relief to most internet business owners including me!
To learn more about how she does it, visit my page dedicated to Rosalind's Super Affiliate Handbook.
Oprah Winfrey aired a show on September 23, 2008 that I have been telling my friends about ever since. Given the current state of the American economy, Oprah had Suze Orman, the financial guru, on her show.
Suze is always straight forward and informative but this time she was VERY serious too. She sounded completely exasperated as she was telling viewers about how many people have gotten themselves into a tight spot financially.
It's no wonder how they got there, she felt. They have bought everything on credit even though she has been warning people for years to watch out for this dangerous trap.
We met a couple who have accummulated over $80,000 in credit card debt are are about to lose their home.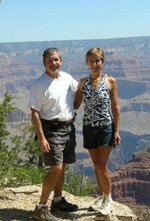 We also met a husband and wife team (Jose and Jill) who wanted Suze's opinion about their financial future given the fact that 3 years ago, they quit their jobs and are living their dream of RV'ing around the United States.
Suze checked their financial status and was very happy to report that their financial future looks bright. She congratulated them on doing a phenomenal job of saving money well in advance of their departure and mentions that they also have money coming in now.
How are they making money while they travel? With an SBI! site!