The holiday season is in high gear and we are busy attending parties and planning some of our own. Our annual football party is coming up in a couple weeks which we host at a local bar. Not a lot of planning necessary for this one other than keeping track of RSVPs and ordering pizza.
Edible Gift Ideas
I have also been busy trying to select the perfect gift for each person on our list. Have you ever given edible gifts? Some of my favorites that I have either given or received are:
Spiced Tea made with Tang drink mix
Spiced Nuts
Quick Breads like Banana or Pumpkin Chocolate Chip
One of the most impressive edible gifts that we received was from our friend Stacey. She learned how to make cinnamon rolls using her bread machine to knead the dough and then forming the dough into beautiful wreaths that she decorates and gives away during the holiday season.
Receiving her Christmas wreath cinnamon rolls is truly special because I know how much time and energy it takes to make them. If you are looking for an extra special edible gift or a delicious treat for a holiday morning, try these.
You don't need a bread machine to make them. See a photo of the one she gave us last year and get the recipe.
Fun Family Tradtions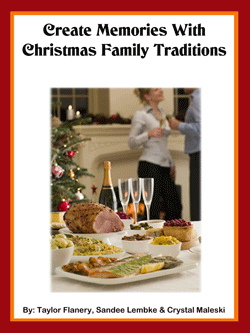 Don't forget to download the Family Traditions ebook that I wrote with my friends Taylor and Crystal. In this 15 page ebook we share:
Some of our favorite holiday Christmas family traditions we have established with our families
A checklist to help you come up with your own family traditions
Tips on making your own natural decorations and centerpieces
Unique gift wrapping techniques and
More edible homemade gift ideas
You can download your free copy here Fun Christmas Traditions. Enjoy!