Recipe Chex Mix
Sweet-n-Salty Snack Mix

This recipe chex mix was given to us by my aunt one year for Christmas. It was stored in an airtight jar and shipped from Arizona. From the moment it was opened, my family devoured it!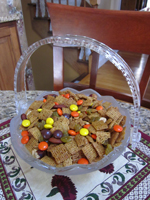 8 cups Chex cereal (any variety)
1/2 cup brown sugar
3/4 cup butter
3 cups of mixins like 1 cup golden raisins, 1 cup honey roasted peanuts and 1 cup pecan halves.
Preheat oven to 325 degrees.
Gently boil butter and brown sugar for 2 minutes. Pour over cereal and mix well.
Spread mixture evenly onto a cookie sheet and bake for 8 minutes. Stir and then bake for an additional 8 minutes being careful not to burn.
When cool, add raisins, peanuts and pecans or whatever mixins you choose. Stir well.
This recipe for chex mix is perfect for any party. It makes alot and everybody loves the ingredients.
BEWARE: This stuff is addicting!
Other Favorite Mixin Combos
I have found that the best combos include at least one salty item like pretzels or peanuts and one sweet item like dried fruit or chocolate chips. Here are some of our favorites.
Dried cranberries, slivered almonds and white chocolate chips
Butter toffee peanuts and butterscotch chips
Reeses pieces, pretzel sticks and peanuts
Here is another Chex mix recipe perfect for football snacks.
Optional: For theme parties, add in colored M & M's to match your theme. For every season, you can find bags of M & M's in festive colors or you can order special colored M & M's on line.