Bread Machine Cinnamon Rolls
Every year my friend Stacey gives away these beautiful bread machine cinnamon rolls that she forms into a Christmas wreath. Last year I snapped a photo (just before my family devoured it!) so you could see her handiwork.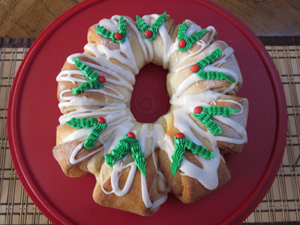 The process is a bit more involved than some recipes but you can see how beautiful the end result is. You do not have to make these in a bread machine nor do you have to shape them into a wreath. This is a general cinnamon roll recipe that you can form into any shape you like.

How To Make Cinnamon Rolls
Stacey kneads and rises her dough in a bread machine first but you can also do it by hand. This cinnamon roll recipe makes two wreaths.
4 - 4 1/2 c flour
1 package active dry yeast
1 cup milk
1/3 cup butter
1/3 cup granulated sugar
1 tsp. salt
2 eggs
1/4 c butter softened
1/2 c. packed brown sugar or granulated sugar
1 tsp. cinnamon
Heat 1 cup milk, 1/3 cup butter, 1/3 cup granulated sugar and 1 tsp. of salt over med. heat until butter is melted.
Put 2 cups of the flour in bread machine and then add heated milk mixture. Add both eggs and package of yeast.
Set the bread machine for knead and 1st rise. As bread machine mixes the dough, keep adding a little more of the remaining flour until your dough is smooth and elastic and no longer gooey. Be careful not to over work the dough as this makes it tough.
If doing by hand just continue kneading until you get the desired texture.
Let the dough rise in the machine or if doing by hand shape into ball, place in lightly greased bowl turn once, cover, and let rise until double in size 45 - 60 mins.
After the dough has risen punch it down and divide into two balls, place in lightly greased bowls, cover and let rise for 10 mins.
Shaping the Bread Machine Cinnamon Rolls
For each ball, roll out on lightly floured surface into a large somewhat thin oval. Melt the butter and brush half of it all over the dough (be generous).
After mixing the brown or granulated sugar with the cinnamon, spread half of it all over the dough, then roll the dough length wise until it looks like a sausage. Place it on a lightly greased cookie sheet and make a ring out of it.
Take a pair of scissors and cut into the sides without going all the way through (see photo). Cover with towel and let rise in warm place until double in size.
Bake in 375 degree oven for 25 minutes or until lightly brown on top. Cool completely.
Cinnamon Roll Frosting
1 1/2 cups powdered sugar
1/2 tsp vanilla
Enough milk (add slowly) to make it drizzle
Mix the powdered sugar, vanilla and milk together and drizzle over cooled cinnamon rolls. Let the cinnamon roll frosting set for a half hour and then decorate with green icing to make leaves and place a cinnamon candy in middle of leaves to look like holly. Best if warmed up to eat.
As a recipient of these beautiful bread machine cinnamon rolls, I can personally tell you they are perfect for holiday gift giving. When I receive one, I know that my friend put her heart and soul, not to mention her valuable time and money, into making these tasty and beautiful cinnamon rolls. They are truly a very special gift to receive.
More Edible Gift Ideas
I recently found the Crock Pot Girls and have learned alot about Crock Pot cooking from them. Each week they put out a new video demonstrating how to make certain recipes. As I was building this page, they came out with this video showing a couple more ideas for edible gifts.