13th Birthday Party Ideas
Thirteen is a very important birthday since kids are moving into their teenage years. This is the year that they are starting to feel more grown up, so the best 13th birthday party ideas will play into this and help them feel older and more in control.
13th Birthday Party Ideas - A Day With The Girls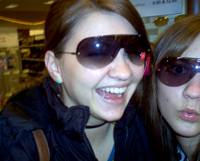 When my daughter turned 13, I planned a day at the mall for her and 3 of her friends. We shopped for a couple hours so she could spend her birthday money, then we ate at The Cheesecake Factory, one of her favorite restaurants.
We ended the meal by eating gigantic slices of cheesecake and singing Happy Birthday. I was the luckiest Mom in the world that day; just me, my daughter and her friends. We all had a great time.
13th Birthday Party Ideas - Wilderness Party
If you live near a state or national park consider heading outdoors for an overnight party in the woods. You can pitch tents and bring compasses to create direction games for the kids (adults should be with kids at all times). There is nothing more fun than hiking the great outdoors then settling in for some cake and half-melted ice cream. Better yet, make smores!
If you bring girls as well as boys have separate tents for each group and make sure adults are aware of what is happening at all hours of the night. This is the age where sneaking out may be cute, but it isn't cute in the wild.
13th Birthday Party Ideas - The At-Home Dance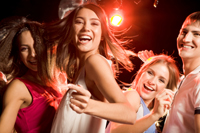 Dances are the highlight of life when you are 13, so why not create one just for your emerging teen? Set up one large room of your home like a dance floor complete with dim accent lighting or perhaps a secondhand or rental disco ball to flood the room with dancing lights. Don't forget all the music that your kid loves (borrow their iPod if you aren't sure).
Make sure to stock the kitchen with snacks and drinks, especially if some kids will be turning the at-home dance into a slumber party.
Find some great party recipes here.
13th Birthday Party Ideas For Sporty Kids
For my son's 13th birthday, he invited 10 girls and 10 boys to our home. We served pizza, pop and potato chips and the kids hung out in our basement eating and listening to music. Not much else was needed for them to have a good time.
After the girls went home for the night, the boys stayed up late watching movies and then in the morning, my husband organized a touch football game in our backyard.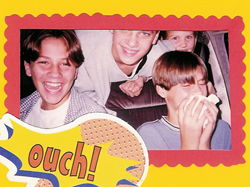 Everything was going great until my son tackled a kid from behind and ended up getting his upper lip stuck in his own braces. This picture was taken in the van on the way to the emergency room where the doctor had to forcefully remove his lip!
Even with the mishap, the kids still had and great time. My son was the kind of 13 year old who did not want a big elaborate party; hanging out with friends and listening to music was all he wanted to do.
Another idea for a sporty kid is get tickets for them and a few friends to some type of game. This can be whatever sport happens to be in season during the month of their birthday, or you can give them tickets for a game coming in a later month.
Make sure it isn't just another game if you go this route. Bring special treats or arrange ahead of time for something special to happen during the game if at all possible, like having their name on the scoreboard.
Friends are everything to 13 year olds so plan a party that includes your child's interests and their friends and the event will be successful. Remember to get your child's approval first. They embarass so easily at this age!