Setting up a Serve Yourself Home Bar For Parties
When we host a party, I usually serve the first drink then show our guests the bar and let them know it's okay for them to help themselves when they are ready for a refill.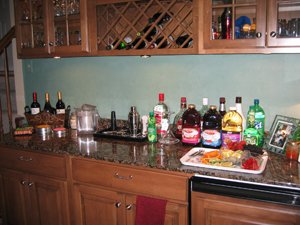 Why? Because we host HUGE parties and there is no way that my husband and I can keep up with the demand. For smaller parties, we can usually handle it but that is not what this page is about.
First, you need to have a well-stocked home bar with everything visible. I have a bar that is up against a wall seen in the photo here. All of my recommendations for set up are with that in mind but can easily be altered to suit your own needs.

Home Bar Set Up
When I took the photo above, it was during a smaller party so I did not have all of my stuff set up that I would normally use for a larger party. Regardless of the size of party, I like to use decorative place mats at the back of the bar so that cocktails can be mixed at the front of the bar and spills easily wiped up.
Then, in order to ensure that everything will fit on my bar, I start by setting out the big barware items like beverage tubs, the blender and the ice buckets. And if I am serving a punch, I also set up the bowl as a place holder.
After the big stuff is set up, I start filling up the rest of the bar space with the little stuff. I have a small mirrored tray that I use to hold accessories like stirrers, spoons, bottle opener, the martini shaker and corkscrew.
In addition to nicely holding all the small stuff, the mirrored tray also serves as a spoon rest when people are mixing their cocktails and keeps everything tidy. Oh, by the way, do not forget to have some damp towels ready to keep the stickiness at bay or things can get messy very quickly.
You can see my garnish tray in the photo above. I always have garnishes ready so we don't have to scramble around when mixing cocktails. Visit our page on garnishing cocktails and learn what to include on your tray, how to rim a glass and watch a video on pairing garnishes with cocktails.
I have a small metal napkin holder that I use to hold my cocktail napkins. They are helpful for spills and also are great conversation starters if you can find some of the funny ones.
The last thing I do during setup is to put a cooler full of ice in close proximity. This makes life so much easier when it's time to refill the ice bucket.
Make it easy on yourself and your guests by setting up a serve-yourself home bar with all the right beverages and barware. Taking the time to plan it out and set it up ahead of time is just as important as the food you serve.
Bar Related Links