Best Cookware Set Reviews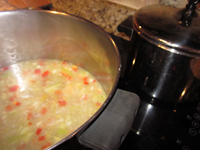 Twenty six years ago I married the man of my dreams and one of our wedding gifts was my beloved Farberware Stainless Steel Cookware Set. My mother in law and my husband's aunt both had the same set and thought that I needed one too.
Although I had no idea what I was getting at the time, my Farberware has become the best cookware set ever! I'll share why I love this stainless steel set so much.
Top Rated Cookware Review - Stainless Steel Cookware Set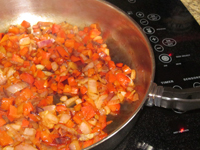 First of all it has stood the test of time. The worst thing that ever happens to my pieces is that some of the handles loosen up occasionally. All I have to do is pull out my trusty paring knife and tighten the screws and I am back in business.
All of my Farberware pieces remain just as beautiful as it was the day I opened the box, as you can see in the photos on this page. Well used, but still shiny. A huge reason why I call it the best cookware set.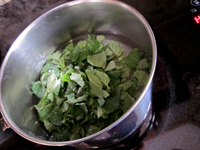 The other thing I like about this particular stainless steel cookware set is that the bottoms of the pans are heavy. In the photo above to the left, I was browning red peppers and onions for one of our favorite dishes.
Because the bottom of my skillet is so heavy, I can easily caramelize vegetables and cook them evenly without burning. If you can brown without burning, you can make the best sauces!
When you need a gentle simmer, like when I was making a syrup for Mint Juleps (above right), no problem either. My Farberware never fails me. Top rated cookware for sure.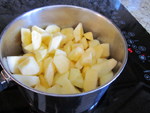 As you can see in this image, I have a glass cooktop. When we first installed it 7 years ago, I was worried that I would have to buy special cookware for ceramic cooktops but my Farberware works perfectly. No scratching the cooktop like with cast iron and some other brands. Another benefit of my favorite cookware set.
The last thing that I really like about my Farberware Stainless Steel Cookware Set is that you can put it in the oven. That comes in handy when making a ham or stew in the stock pot and when browning meats in the skillet and then finishing them in the oven.
Use Caution When Buying Your Best Cookware Set
First, you have to be careful when buying cookware because there are different levels of quality even within the same brand name. All Farberware, for example, is NOT created equal. Some is cheaply made and does not cook food evenly.
To give you an idea of what I am talking about, my set cost about $75 twenty six years ago. I can not be sure exactly which of today's Farberware cookware sets is comparable to mine, but I can tell you that a set under $100 is not going to cut it.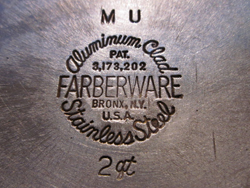 You can find Farberware sets under $100, but I would stay away from them if you are serious about cooking and do not want to have to replace your pieces after a couple years.
All of the pans in my Farberware stainless steel set have this seal on the bottom. They are part of what is called the "Classic Series.".
If you are interested in QUALITY Farberware similar to mine, my suggestion is to either buy pieces from the Classic Series separately or consider one of the more expensive Farberware sets, at least $160.
Although my exact same Farberware set is no longer available, our partner, Cooking.com does have a similar set which has many of the same pieces plus some utensils and a couple of nonstick pans.
The only downside is that it does not include my browning skillet and I highly recommend adding it, or one like it, to your set. A nonstick pan is not the best for browning, making sauces or finishing meats in the oven.
Click here for more information on Farberware cookware sets
and my Farberware skillet.
Links To Farberware Sets and Other Top Rated Cookware Reviews
More Top Rated Cookware - It is wise to review top rated cookware before you make a purchase. All-Clad cookware is one of the best on the market, as rated by several top chefs. Read our review before you buy and find several other name brand reviews including Basic Essentials and Corning Visions.
Racheal Ray Sets - You have seen her on TV for years chopping, cooking and chatting with her audience. Now she has created her very own Racheal Ray Cookware. Read our review.
Best Nonstick Sets - What is the best nonstick cookware currently on the market? Having cooked for over 25 years I can tell you what to watch out for and help you choose wisely.
Discount Calphalon - It is possible to find discount Calphalon cookware, choice sets that are easy on your wallet with reviews that are generally very good. Read ours here.
Allclad Cookware - Allclad cookware is American manufacturing at its finest; professional metallurgists specify the metal formations down to the microstructure ensuring a quality product.
Emeril Lagasse Sets - Now you can buy your very own set of Emeril Lagasse cookware. I have been watching him for years, cooking up all sorts of goodies. Read my review of his cookware.
Cuisinart 10-Piece Stainless Steel Set
This is a nice overview of the Cuisinart 10-Piece Stainless Steel Set recorded by a Cuisinart rep. It is helpful to watch because she discusses the benefits of various features to look for when buying sets for your kitchen.