Home
: Backyard Theme Party Games
Easy To Learn Theme Party Games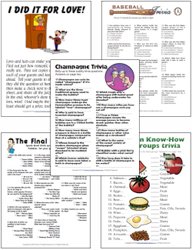 Theme party games are fun to play at parties. We recently became partners with Python Printable Games and my friend Ashley has some great ones to choose from.
You can buy his printable party games individually or you can buy a multi-pack like the one shown here. You get the convenience of buying them online plus you can download them immediately and use them over and over again.
This pack includes more than 30 printables that will fit any occasion. A great mix of home party games, including ice-breaker games, history, food and drink, celebrity games, TV, books and movies, NFL and baseball.
We like printables for theme parties because they are so easy to play with a lot of people and are very inexpensive. This pack, for example, is only $14.95 for 30 theme party games! Just download the package to your computer and you will be ready to print and play.
Click here to learn more about Ashley's Printable Party Games Pack.
NOTE: Python is currently running a special. Buy any 2 games or packs and save 50%. Now is a great time to try them out. Use Coupon Code PUMPKINTWOFER when ordering.

Printable Games Party Pack
Drinking Games
Visit our drinking game page for some adult party game ideas. There you will find drinking game ideas including "Screw The Dealer" and "Chandelier Flippy Cup."
Do you have any to share? You can also submit drinking games on this page for others to enjoy.
Youth Group Games
We ran a contest in Fall of 2010 and received over 70 ideas for party games from our visitors. I was totally amazed at the variety, creativity and quality of party games submitted.
You will find ideas for clean party games for youth groups and kids, more drinking games for adult parties and multiple ideas for group games that can be played with large numbers of people.
There are so many to choose from I can't list them all but you can click here and see the fun youth group games and others for yourself. Submit one here too if you would like to share with other visitors.
Find More Party Games Here
Yard Party Games and Ideas
More Yard Activities
Outside Games
Group Games