Bible Scavenger Hunt
A Bible scavenger hunt is the perfect way to get all of our family and friends up and involved with a fun activity. Scavenger hunts have always been popular but not many are based on clues from the Bible.
There are several different ways to include the Bible in your scavenger hunt depending on the age of the participants.
Ideas For Young Ones
The easiest thing to do with younger kids is to have them hunt for particular words or phrases in their Bible. Working together in teams is especially fun for this age group.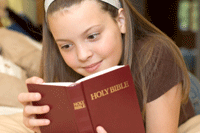 Another way to play the game with younger kids is to take key words or phrases from the Bible and write them down on decorative cut outs or Post It notes.
Hide them around the house and tell the kids to locate the cut outs. When all of them have been located, you can discuss the words and award prizes for the most words found.
This is an ideal way to encourage them to use words that are not used in every day speech. They will not only learn about different parts of the Bible, but also will improve their grammar.
Ideas For Teens
Children who are older and more versed in Bible passages can play with more complicated clues. How you choose to word the clues is entirely up to you, and you may want them to look for an example of something, or a particular testament.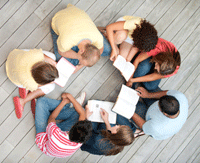 Asking the participants to find a particular place in the Bible connected to your clue will test their knowledge and understanding of the Bible and include it in the game.
Although the clues can be more difficult than what you give younger children, don't make them so complicated that the teenagers can not find them. This will just lead to unnecessary frustration. You want them to learn but you also want them to have fun, right?
Teaching Bible passages can be difficult so it is important to find new and fun ways to get kids involved. Having a Bible scavenger hunt is the perfect way to accomplish two tasks at the same time. Kids learn the Bible and have fun at the same time.
You might also like the Bible Family Feud Game.