Party Tableware
Setting up Your Food Areas

Simple Centerpiece Ideas
On this page, you will find ideas for choosing the right party tableware for casual get togethers. I am not an expert on sit down dinner parties so you will not find ideas on how to set up the table for an 8 course meal. Way too serious for me!
The parties that I have thrown generally fall into two categories; the grazing-type party, where appetizers and desserts are spread throughout the house, and the buffet-type party, where all of the food is primarily in one location.
Grazing Party Tableware
The first thing you have to do is decide how many rooms of your home are going to be used during the party. I try to have food in all the rooms where people are going to congregate because it encourages people to wander and mingle.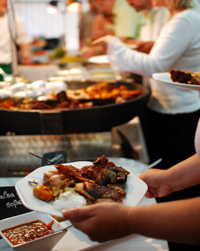 I have 3 primary rooms where people tend to hang out. My kitchen, of course, the family room which is where the bar is and our basement which has another sitting area and the card table.
I usually have 2 or 3 of the same appetizers in each room (make one appetizer and split it into smaller bowls), but I also have 2 or 3 appetizers that are unique to each room which encourages people to wander around and see what's different.
This is a GREAT technique especially when you have people that don't really know each other. People end up all over your house socializing instead of sitting like lumps on a log in one room. We also have different music in each room to help people get motivated to move around.
Typically, I choose one serving area in each room, usually a coffee table in the sitting rooms, and the table in my kitchen. I cover the tables with a tablecloth, not only to dress them up, but to protect the tables, and I always have paper goods in each food area.
If I am serving appetizers like Peppered Meatballs or Boneless Buffalo Wings that stay in a Fondue Pot or on a warming tray, I keep those in my kitchen because it's easier to get at the electricity.
Find more Hot Appetizers here.
Great choices for the coffee tables are cold appetizers, like
Avocado Corn Salsa
or
Garlic Herb Pesto Dip.
I also like to have some warm appetizers on the coffee tables, like Vidalia Onion Dip or Green Chili Dip, but it's always a challenge keeping them warm.
Fondue pots work well, especially the kind that use tealights or sterno for heat instead of electricity. Click here to check out my selection of fondue pots, chocolate fountains and accessories.
Generally, there isn't enough room on a coffee table to get too fancy with centerpieces. Just a tablecloth or placemats is about all you can do to dress up the tables. I have thrown some confetti
on top of the tablecloths and around the serving dishes on occasion, but that's about as far as I go.
The buffet party requires a little bit more preparation and set up than the grazing party. First you have to come up with the table configuration.
Recently my daughter graduated from high school and all of the food was set up in our dining room. I used the dining table but also set up two banquet tables around the perimeter of the room; one for the paper goods and the other for desserts.
If you are going to buy banquet tables, I highly recommend going with smaller, lightweight tables. I have had the 6 foot, wooden variety and found that they were so unruly and difficult to manuever that I would be exhausted after setting them up!
I have since invested in a couple of small, lightweight folding tables and now set up and take down could not be easier.
Once you get your tables set up, I recommend getting table cloths that match for all of the tables. Rather than looking like a bunch of mismatched tables thrown together, matching tablecloths bring unity to the room. I use matching yellow tablecloths for most of my parties.
Now that you have the tables set up with matching tablecloths, it's time to figure out where everything goes. This may seem like common sense, but a lot of people miss this little detail causing confusion when people start coming through to fill their plates.
Set up the food in the following order:
Paper Goods (signals beginning of the line)
Salads and Dressings
Sides and Main Dishes
Rolls and Butter
Condiments, Salt, Pepper
Desserts
The order is important so that when guests enter the room, they know exactly where to begin and the flow ensures that they do not to miss anything and have to back track.
To make your party tables more interesting, use "lifts and levels" when possible. All you have to do is find objects around your house, like stacks of books, or upside-down Tupperware containers, put of few of them underneath your tablecloths and set some of the dishes on top so they are elevated. This creates visual interest instead of everything being flat on your party tables.
Party Tableware and setup is usually one of the easiest parts of having a party. It doesn't take much to get it right, just a little bit of organization and forethought.
Centerpiece Ideas
Centerpieces can be really expensive to buy. Why not make your own? Get some Simple Centerpiece Ideas here.