Yard Party Fun
With the summer months approaching, it is the perfect time to start planning your yard party. Having a party in your own backyard is one of life's little pleasures, especially if you live where the seasons change. When warmer weather finally arrives, there's only a small window of opportunity and you have to take advantage of it!
Summer Party Games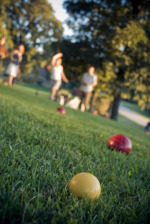 Playing games at parties is a great way to get your guests out of their chairs, mingling and making new friends.
Organizing yard party games is easier on the host because your guests can spread out giving you more game choices.
Not only can you set up a few tables for board and card games, but you can also organize games that take up more space in your yard.
In addition to the most common games like bocce ball, volleyball, cornhole, ladder ball and badminton why not try something new? Here are a few of our favorite yard party game ideas:
Timber Time - Lay a 6 foot timber (the kind you would edge a garden with) in the middle of the yard. Have your guests team up. Designate one person as the timekeeper. Have each team take turns trying to get across the timber without falling off. If anyone falls off, they have to start again. Whichever team does it in the least amount of time wins. This one is hilarious to watch!
Name That Tune - Have your guests team up. Designate one person as the music controller. Give each team a bell or some other noise maker. Start the music and play it 5 seconds. Each team works together to try and figure out the name of the song. When they think they know it, they ring the bell and guess. If they guess right, they earn points. If they guess wrong, the other team gets to guess. Continue playing songs and letting teams guess. The team with the most points after 10 songs wins.
Water Transfer - Set up two tables 15 feet apart. On one table place 2 teaspoons and two bowls filled with water. On the other table place two empty bowls. Have your guests team up. The object of the game is for each team to use the teaspoons to carry water to the other end and place it in the bowl. The team who has carried and deposited the most water in the bowls wins (use a measuring cup). Do several rounds before claiming a winner.
Summer Party Printable Games - Depending on your guests, you may require less physical group games. In that case, card games or printable games are the way to go.
All you have to do is download them to your computer, print and play. My friend Ashley has a great selection for BBQ's and outdoor yard parties including trivia, word searches, Mad Libs and match games.
His printable BBQ Party Game Pack, for example, is a very inexpensive option ($6.95 per game or 11 games for $19.95) and works well for guests of all ages regardless of fitness level.
Visit these pages for more fun backyard party games.
Fun Outside Activities
More Backyard Games
Group Games
Since most yard parties are very casual, you don't have to worry too much about invitations. A great time saver, especially if you are inviting a lot of people, is to design invitations on your computer and either print and mail them or email them. Click here to watch a video of me creating an invitation in Microsoft Powerpoint.
When I host yard parties, I really don't spend alot of time on decorations unless it is a special occasion like a graduation. Usually I just decorate with flowers and lighting.
By flowers I mean I organize the pots I already have in my yard. I might move them from certain spots up onto the deck. Or move them further into the yard. I also like to create tiny little flower arrangements for the tables.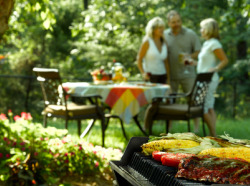 I have the most fun with lighting. In addition to placing white votive candles all over the place, I love my yard torches!
I have several; some are stuck in the ground in various spots in the yard while others are table top varieties. All of them are copper torches and the color looks fantastic against the yard greenery.
Because we have pesky little mosquitos at every yard party, I use a lot of citronella in both the torches and the votives.
Strings of yard lights can easily be placed in trees, bushes and around your seating areas.
Recently I was out shopping and noticed a lot of stores, including Target and Walmart, are offering a nice selection of light strings in all shapes and sizes. Cute little lights shaped like chili peppers, margarita glasses and colored balls like these.
Try to find solar lights to make your life easier. They may be a little pricier but boy are they convenient!
There is so much you can do with just flowers and lights. That's the beauty of having a party outdoors. You don't have to go crazy with decorations because most yards are already beautiful enough on their own.
The yard party menu is one of the easiest to plan, again because these parties are usually so casual. Finger food, buffet items and punches are perfect for yard parties. Here are a few of my favorites:
Look for recipes that can be prepared well in advance because you are going to have enough to do last minute. Click here for more easy recipe ideas for your yard party.
More Yard Party Ideas