Easy Fondue Party
We have a bit of a tradition among the group of ladies that you see in this picture. Over 10 years ago, we began taking an annual trip together that is fondly referred to as the "Spa Buddy Trip."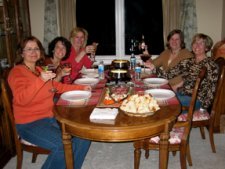 The trip got its name because when we first began, we went on a two day trip to a spa and had massages and manicures (in addition to ALOT of shopping, eating and partying!).
Somewhere along the way, the tradition of having an easy fondue party each time we met began. I call them easy because all six of us get in the kitchen together and cook which is so much fun.
We drink, chat, chop and giggle our way through the preparations. When you have 6 ladies in the kitchen together, fondue cooking could not be easier.
Whether you want to host an easy fondue party with some friends or if you want to do it more regularly with your family, you can learn how to fondue in no time at all using my fondue cooking ideas.
First, you will need to make a couple of important decisions.
Type of Fondue Party -- Are you going to have a fondue party where everybody sits around a table like at a dinner party? Or are you going to have a more casual affair where fondue pots are set up on a buffet table or in your family room on a coffee table? This decision will help you figure your how many people you can invite to your fondue party and what kind of equipment you will need.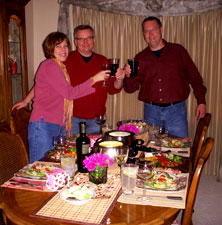 Number of People -- If you are having a sit down fondue party, everyone will need to be able to reach the fondue pots so I would limit it to 6 people. If you want to have a larger party, set your fondue pots on buffet tables and around the house. That way everybody can graze when they want to.
Once you figure out the type of fondue party you are having and the number of people to invite, you can organize your fondue equipment and pick out your recipes.
I have hosted both sit down and buffet-type fondue parties. For the sit down parties, I serve two savory fondues, like Garlic Cream Cheese Fondue and Chili Cumin Cheese Fondue and one dessert fondue, like Grand Marnier Chocolate Fondue.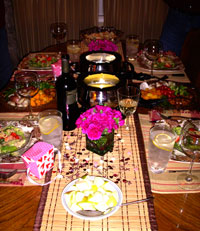 All three of these are served in my Rival Fondue Pots. Check out the picture of my last fondue party. You can see two of the fondue pots in use.
For larger parties, I use a variety of other fondue pots and set them up around the house. I also use the table in my kitchen to set up my Rival Chocolate Fountain which is a huge hit at all parties.
Learning how to fondue is not difficult. Figure out what kind of party you want to have and the number of people you are going to invite and then plan out your Fondue Recipes. Check out my Easy Fondue Recipes below.
Keeping your party small (6 people or less) makes setting up the table for an easy fondue party, well...EASY!
Notice how I did it in the picture just above. First thing I do is to position everything on the table, even empty bowls and fondue pots, to ensure a good fit.
Position All Items
First, position your place settings including plates, glassware and utentils
Next, position your empty fondue pots in the middle so that the cords can drop down off the sides. I tape the cords to the bottom of the table and out one end to prevent them from dangling on your guest's lap all night. Then tape them to the floor between the table and the plug to prevent tripping.
Next, position empty bowls that will be used for anything else you are serving
If you are going to have centerpiece items, make them small, like the flower bouquets I use, and position them whereever you can fit them.
The last thing I do is add decorations if I am using them. The picture above was taken at a Valentines Fondue Party so I sprinkled heart confetti in the open areas and gave each guest a little party favor, both of which you can see in the picture.
A Note About Positioning Fondue Food
For every two people, prepare a dippers platter and place it between their plates. You can see how I did it in the picture. You might think that you would serve dippers in large bowls and just pass them around but I have found that to be cumbersome when you already have so much stuff on the table. I do put big stuff, like bread, in a large bowl to pass, but everything else is on small plates so the guests can easily reach their dippers.
When you are ready to serve, fill up the fondue pots and serving bowls and place them back into position. No hassles at the last minute because you already spent time figuring out where everything goes well before your guests arrived. This might seem like a ridiculous step, but trust me, it is more important to prepare for a fondue party than for any other type of theme party because the table is so crowded with the pots and dipper platters.
Hosting a fondue party was a really popular thing to do in the 70's and then it fizzled out. Recently, it has made a huge comeback.
Why? Because with our busy lifestyles, people are getting away from having formal, sit down dinner parties and opting for more casual parties, like a Wine Tasting Party, a Bunco Theme Party or an Easy Fondue Party. Easy to plan, easy to execute and so much fun.
I love this trend! I say let's bring back the 70's-kind-of-casual-parties and fondue is the perfect fit.
And what could be more perfect attire for an easy fondue party than
tie dye? Invite your friends over and ask them to wear their favorite tie dye or 70's attire. Here are a few choices from CafePress:
Check out the entire selection of Cafe Press Tie Die T-Shirts.
Having the right equipment will make your life as a host SO much easier. Over the years I have tried several different types of pots and have learned to have a variety of pots available so that you are ready for any situation.
There are many styles to choose from but basically it comes down to the heating source and the size of the pot. I am familiar with 3 different types of fondue pots:
Electric Pot -- I own 3 Rival Fondue Pots. For a party of 8 people, I usually use 2 of them for the savory recipes, like Hot Crab Fondue and Bacon Cheddar Fondue and the third one for dessert, like Mocha Cinnamon Fondue. What I like most about these pots, besides the fact that they are electric, is that they have an easy-to-clean interior so cheese fondue does not stick like it does in some pots.
Sterno Pot -- The Rachael Ray Fondue Pot is an example of a sterno pot. This type of pot works well when you want to set up fondue away from electricity, like on a coffee table. You will not have to worry about people tripping over electrical cords.
Tea Light Pot -- The Staub Fondue Pot is an example of this type of pot. You can also find very small tea light pots that work well for chocolate fondue recipes.
You will find many of these Fondue Pots here.
For smaller fondue parties, say 8 - 12 people, I use my 3rd Rival Fondue Pot for dessert, but for larger parties, my Rival Chocolate Fountain is a HUGE hit.
It does not matter how old my guests are, everybody loves that chocolate fountain!
I recently used it at my daughter's high school graduation party. We set it up on a separate table in the kitchen and surrounded it by all kinds of dippers like pound cake, pretzels, sugar wafer cookies, Oreos, bananas, strawberries, pineapple and sprinkles. For the entire night, there were people all around the fountain raving about how cool it was.
Click here to go to our Chocolate Fountain store where you will find several models to choose from.
Once you have your fondue pots and accessories, you are ready to choose your recipes.
For a party of 6 or 8, I recommend serving two savory fondue recipes (see Cheese, Meat and Broth sections below) and one
dessert fondue recipe.
To round out the meal, serve a side dish and depending on the kind of fondue you are serving, you may also want to include a couple of
fondue dipping sauces.
Find additional fondue recipes here and share some of your own.
Click here for more easy fondue recipes.