Mardi Gras Party
You can easily host a Mardi Gras Party at home with these simple party ideas. Choose a weekend before or after Fat Tuesday and invite your friends over to celebrate prior to the beginning of the fasting season.
Throwing a Mardi Gras party at home is a great way to recreate the spirit of one of the biggest annual celebrations across the world. Also, known as "Fat Tuesday", this event is one of the high points in the lives of many young people, especially during the college years.
The fun doesn't have to be limited to the real street celebrations – you can capture the essence of Fat Tuesday with your own at-home parties.
Fat Tuesday Decoration Ideas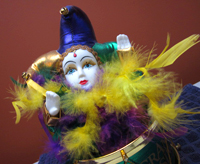 If you've been to a Mardi Gras celebration in New Orleans or have seen video on TV, you know it's all about bright colors, especially gold, purple and green.
These 3 colors represent the 3 Wise Men and can be seen in all sorts of objects including recipes, masks, beads, feathers and floats.
When celebrating Mardi Gras, it is a great time to bring out the gawdiest decorations you can find. Big and colorful stuffed animals, masks, balloons...the bigger the better.
Think of what you saw on TV. There are always lots of masks, beads and colorful streamers everywhere. These items are perfect for decorating your home and can be found very cheaply on line and at party stores in your area.
Drape beads all over your house, on lamps, over doorways, hanging from pictures and mirrors and laying on buffet tables. If you do nothing more than hang strings of beads everywhere, it will be enough just because of how colorful they are, especially the metallic ones.
Activities and Event Games
There are quite a few common party games that suit the Mardi Gras theme atmosphere. Make sure you have a limbo stick and the limbo song ready to go on a CD or mp3 player, as this game always amps up the atmosphere at a Mardi Gras party.
Conga lines are also a fun idea for Fat Tuesday theme parties, so prepare some appropriate music for that too. Of course, for parties of this sort, dress up contests are always fun, but you may want to organize a judging panel and prizes if you really want your guests to put in the extra effort.
Another great choice is to play printable games. My friend Ashley has a bunch of inexpensive theme group games that are one-pagers including trivia, Mad Libs, match games and word searches. Download, print and play! Perfect for a large group of people at a St Pats get together. Check out his selection of Printable Mardi Gras games pack (shown above).
Find more ideas for Theme Party Games here.
Mardi Gras Fat Tuesday Recipes
"Fat Tuesday" is all about fattening up before the time of fasting so any recipes for fatty and decadent foods are fair game for your theme menu.
Since Louisiana is known for its Cajun food, choosing a recipe like Jambalaya for your Mardi Gras celebration is a good choice. Really any entree with seafood will do.
For drinks, try stirring up a few of the famous Hurricane cocktails. Originally created in New Orleans at the Pat O'briens bar in the 40s, Hurricanes are served throughout the year but are especially popular during Mardi Gras.

How To Make a Hurricane Cocktail
1 oz vodka
1 oz gin
1 oz light rum
1/2 oz 151 proof rum
1 oz amaretto almond liqueur
1 oz triple sec
Grapefruit juice
Pineapple juice
Grenadine syrup
Some people say it is important to add the ingredients to a glass one at a time to create a layered effect. I guess that is the traditional way to make them, but when entertaining a crowd at home, keep it simple so you can serve a lot of people at once. Just add all the ingredients to a glass filled with ice and stir.
For a fattening and decadent dessert, the King Cake is popular. It is basically just a cinnamon swirl coffee cake, filled or unfilled, and decorated with heavy frosting, colored sugar and a little plastic trinket of some kind, usually a baby Jesus.
How To Make Mardi Gras King Cake
This year for Mardi Gras, my family celebrated by eating a seafood dinner of salmon pinwheels, crab cakes and roasted root vegetables and for dessert we ate this king cake. We joked around with the plastic baby and even made "him" slide down the frosting slide!
Although our cake was not filled, it is popular to have a cake with filling, especially cream cheese. In this video, "lousianathings" shows a super simple way to make one at home with a cream cheese filling using store bought cinnamon rolls. He also does a great job of explaining the meaning behind the king cake and the plastic baby.
It's a little long, but is very informative if you stick with it.
Find several more cocktail and easy recipes for your Fat Tuesday celebration here.