Hen Parties
Hen Parties, also known in the States as bachelorette parties, are not supposed to be tame or lame. They certainly are not supposed to make the bride-to-be cry because she's sentimental about the big day coming up. These kinds of theme parties are supposed to be more of a celebration of her single life, a last hurrah if you will.
The following five ideas will help you create a bachelorette night that let's her get wild and truly enjoy her last night out with the girls before walking down the aisle.
The one thing you won't find on this list is the stripper. Everyone knows that you can throw in some nudity and raunchy fun to get the bride-to-be red in the face, but there are a lot of other wild hen parties to consider.
Working for Hen Gifts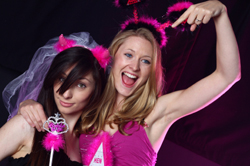 Get the bride-to-be one really great gift that she will love (if it's expensive, have everyone attending pitch in) but don't just give it to her.
Make her work for it! Drop lots of hints to make sure she understands that it is worth working for.
First, go somewhere public and give the bachelorette something to put on her head (a veil works wonderful) to clearly mark her as the bride. Then give her a list of things she has to do in order to earn her hen gift.
Some of the things on the list may be to sit on a man's lap for ten seconds, ask a random guy for his phone number, dance on a table, or climb over five booths and "join" the occupants eating in them. Come up with other things specific to your theme and where you are having the event.
Bring On the Pole Hen Parties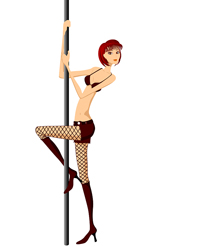 You can now find strip dancing and pole dancing classes in gyms and dance studios across the country, so why not tell all the ladies to put on their heels and try out the pole?
Either hire an instructor to come to the location of the party for a group class, or have someone in your group already familiar with pole dancing instruct everybody else.
If you don't have a pole, why not use chairs and teach a lap dance? This is a skill the bride-to-be can actually use on the honeymoon and in the bedroom for years to come!
If you don't want to give the surprise away before the hen night, buy the bride-to-be her own white heels and decorate them with glitter so she really sparkles in the front of the class.
Last Dates
This is a simple one, but it can make a hen night out on the town lots of fun. Put your bride-to-be in a white t-shirt and bring along a marker. She has to fill it with as many signatures from men as possible and she has to be the one to ask each man to sign. At the end of the night the bachelorette will have something to take home with her to remember this night forever.
Phallic Treats
Need some ideas for at-home hen parties? If you can't embarrass her by taking her out in public in a tight t-shirt, why not bake cakes and buy lollipops shaped like the male genitals? You can even do this potluck style and have all the guests bring something edible that can be portrayed in a sexy manner.
Bride's Bucket List
Have your bride write down 5-10 things that she would have liked to do before getting married. It's like a bucket list, but for brides. Find a way to make those things come true in one wild night, even if you have to use symbolism for some things. The more things she writes down, the more room you have to find creative ideas that are reasonable to do in one night.
Bachelorette Theme Game
This is kind of embarassing but I will share a bachelorette theme game that my girlfriends planned for my hen night. They bought a Playgirl magazine and pulled the centerfold out and pasted it to a poster board.
Then they cut out several male body parts (certain ones in particular) and put them into a hat. Each person had to draw a body part out of the hat and then we took turns playing "Pin the XXXX on the Stud" while being blindfolded. It still makes me laugh, 25 years later, when I think about that night!
More Bachelorette Theme Games
In addition to the funny bachelorette game we played at my hen party, consider using printable games.
We like printable games for theme parties because several people can play and these games are very inexpensive. Most are under $7.00 each.
Just download the bachelorette games to your computer and you will be ready to print and play. You get the convenience of buying them online plus you can download them immediately and use them over and over again.
Check out the wide selection of Bachelorette Party Games here.
Stag Parties
If someone you know is planning a bachelor party, our new Stag Theme Parties page will be helpful. Here you will find 5 simple ideas for Bachelor parties.
Other Theme Parties
Basketball Theme
The perfect time to host Basketball Parties is in March. Why? The NCAA Mens Basketball Tournament is in full swing. An entire month of potential party dates.
Bunco Theme
Find everything you need here to host a Bunco Theme Party, including How to Play Bunco, Setting up Your Home, Free Bunco Score Cards and bunco theme food.
Yard Party
When the weather warms up, it is the perfect time to plan a yard party. Invite family and friends over for fun and yard games, great picnic food and summer punch drinks.
Wine Tasting Party
Our Top 5 ideas for Hen Parties. Some out on the town. Some at home bachelorette theme ideas, including a very funny game. Help the bride-to-be celebrate (or lament) her last night of singlehood.
Kentucky Derby Party
Planning stag parties is almost as fun as the event itself. We have a few ideas that will get you thinking about how to make this night or weekend something the bachelor will never forget.