Luau Party Ideas
Have you ever hosted a Hawaiian theme party at home? If not, consider using some of our Luau Party Ideas. All are relatively easy to execute and quite inexpensive.
The Luau party originates from Hawaii and is a feast-like celebration, filled with genuine Hawaiian traditions along with a whole range of other tropical influences.
The Luau Party is an ideal opportunity to celebrate in the sunshine and can be used for birthday parties, wedding celebrations, graduation parties or just as an excuse to bring a truly tropical vibe to your own home.
So what do people do at luau parties? Well in addition to wearing bright colored, flowery shirts, drinking foo-fee Hawaiian cocktails and listening to Jimmy Buffet, guests usually play games. We'll start with a few Luau game ideas, then get into simple decoration tips and end with some ideas for luau party foods.
Luau Theme Suggestions For Decorations - One of the most exciting aspects of any Luau are the decorations. A great luau party idea is to cover your food area with classic fish netting, like this fellow internet user did. I like how she attached starfish to the netting and added that big tiki guy which can be rented if you don't have one.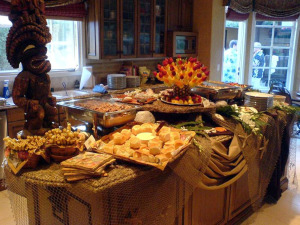 You can also spread a whole range of sea shells around your food area and use tropical leaves and flowers as centerpieces on the tables.
No tropical party is complete without pineapples and coconuts, and if you really want to go all out, add surfboards, ukuleles, beach towels, hula shirts, colorful fish and even toy parrots made of paper mache.
Don't forget to buy some leis and give one to each guest as they arrive.
Luau Party Recipes Ideas - There are a whole range of fantastic Luau food ideas including dishes like pineapple chicken, coconut shrimp and Hawaiian pizza. A really easy appetizer is to make fruit kabobs stuck in a pineapple like in the picture above (love that!). Serve the Amaretto Fruit Dip (recipe below) with it. The pineapple-fruit kabobs serve as an appetizer and a decoration! Or try a recipe below.
Hawaiian Luau Party Games
Printable Games - All you need is a computer and paper to print the games, some pencils or pens and a place for people to sit where they can write. We recently became partners with Python Printable Games and my friend Ashley has some great Luau Theme Printable Games to choose from.
You can buy his printable party games individually or you can buy a multi-pack like this one shown here. This pack includes 14 printables including word searches, Mad Libs, trivia and match games.
We like printable games for theme parties because they are easy to play with a lot of people, are suitable for most age groups and are very inexpensive.
The pack shown above, for example, is only $19.95 for 14 theme party games. Just download the package to your computer and you will be ready to print and play.
You get the convenience of buying them online plus you can download them immediately and use them over and over again. Click here to learn more about Ashley's Hawaiian Luau Party Games.
Pinatas
- In addition to printable games, great fun can be had with a pinata. They come in every shape and size and create hours of enjoyment at luau parties plus they make great luau decorations bcause they are so colorful. Here are a few of our favorites:
Limbo
- By far, the most popular hawaiian luau party games is limbo dancing. It's inexpensive to set up and very funny to watch.
First decorate a 6 foot PVC pipe with some tropical wrappings and ribbons. Next find some limbo music to play and allow guests to try to limbo under the pipe without touching it.
Each time the dancer successfully shimmies under the pipe without touching it, lower the pipe and let them try again. Keep going to see how low they can go without touching it. The person who can go the lowest wins a prize. This video shared on YouTube is a great example of how to play the limbo game.
The Luau theme is undoubtedly one of the easiest, most exciting and downright enjoyable ways to make your get-together standout from the rest. The sheer variety of food, games and decorations associated with the Hawaiian theme ensure that this will be one to remember for many years to come.