70s Party
The easiest parties to plan are decade parties. Basically you choose a time period to highlight and then everything revolves around that decade. The 70s party is one of the most popular ones to host these days.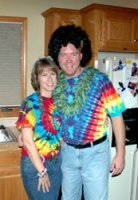 You carefully select invitations, decorations, costumes, games, music and recipes to match the chosen decade.
Here is a picture of me and my husband. We ran out of time to make elaborate costumes so for this 70s party, we just wore jeans and tie die tshirts and then I bought a wig and marijuana necklace for him and made a headband for myself.
Dressing up disco style, with tight bell bottoms and silky button down shirts with pointed collars (think John Travolta in Saturday Night Fever), is something that appeals to people of all ages irrespective of whether they are old enough to remember the decade the first time around.
Seventies themed parties are a tremendous amount of fun with crazy hairstyles, crazy seventies clothing and some of the best music ever recorded. You simply cannot lose when you are the host of a proper 70s party.
Seventies Decorations
The key to any seventies disco party is in the decorations and no 70s party is complete without a vintage disco ball. This can be used as the seventies centerpiece for all the moving and shaking that is to follow and disco balls are quite easy to track down.
Of course, if you really want to go all out, then a fog machine and some strobe lighting can be used to recreate the seventies experience.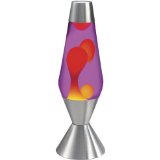 Other examples of suitable 70s decorations include bean bag chairs to relax on, low sized coffee tables, curtains made of beads and, of course, no seventies party could be truly complete without a vintage lava lamp to liven up the proceedings.
Lastly, you can buy seventies candy in bulk on line. Use some vintage seventies candy like Zotz, Bubble Gum Cigars, Sugar Babies, Sweetarts and Boston Baked Beans to decorate your tables. What a fun theme to plan.
70s Decade Games
Disco dancing, so synonymous with the seventies, can easily be turned into a vibrant competition with each and every guest vying with each other to be this year's John Travolta or Olivia Newton-John.
With seventies music such an important part of a seventies theme event, why not use music as a game. Play name that tune or create a seventies music quiz on paper.
Another fun game is to create a seventies trivia contest where you give each guest a sheet with questions. The person with the most correct answers wins a prize.
Our partner, Printable Games AtoZ has a great selection of printable Decade Games to choose from. Just download, print and play.
Find several more ideas for seventies games submitted by our visitors that can be played with large groups of people.
70s Game Idea
Just for kicks, watch this video of John Travolta dancing in the Saturday Night Fever movie. Not only will you get a clear picture of what an easy 70s costume looks like, but you will also see some of John's best 70s moves, perfect for a dance contest with prizes going to the best individual dancer or teams of dancers.
Seventies Recipes
If you are hosting a 70s party, you must include the legendary Harvey Wallbanger Cocktail. Here's how you make these beloved seventies cocktails: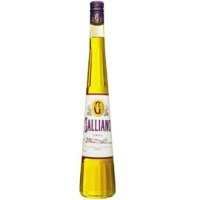 1 oz vodka
4 oz orange juice
Splash Galliano
Orange slice
Cherries
Pour vodka and orange juice into a tall glass filled with ice cubes and stir. Float Galliano on top by pouring slowly over a teaspoon turned bottom-side up. Garnish with a cherry.
Click here to find 4 more of the most popular seventies cocktails.
A 70s party wouldn't be true to the decade unless you serve fondue. Here are some of our favorite seventies fondue theme recipes:
We are looking for more easy fondue recipes. If you would like to contribute please do so here:
Easy Fondue Recipes
Also if you need supplies, click here to view our select group of recommended fondue pots and accessories.
Hosting a 70s Theme Party is so fun because of how easily you can find the seventies theme items you need. From costumes to decorations to easy fondue recipes, all are easily found making your job as a host pretty simple.
Other Theme Pages
70s and 80s Cocktails

One could argue that these five 70s and 80s cocktails were the most popular during that time. Find pictures and recipes to use for your next seventies or eighties theme event.

Eighties Theme

Big hair and cheesy looking outfits, not the best music but fun all the same. I graduated high school and went to college in the eighties and I remember that time fondly.

Easy Fondue Theme Party

If you want to learn more about seventies style parties, visit our page on hosting easy fondue theme parties.