Homemade Party Favors
Homemade party favors can be easy to create and even more treasured than the trinkets you can pick up at a store. Here are a few ideas for your next theme event.
Edible Homemade Party Favors
What is more fun and memorable than edible gifts? Many favors barely make it out the door before hitting a receptacle bin! If you put together something your guests can snack on, not only can you save money but you will give them something useful. Here are a few of our best ideas: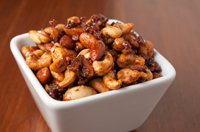 Chocolate dipped spoons - These could be metal or wooden if you feel like being eco-friendly
Homemade suckers - Flavor and color options are endless
Hot cocoa mix in jelly jars decorated with ribbon
Homemade Soup and cookie mixes in canning jars decorated with raffia
Homemade Spicy or sugary nuts in decorative tins.
Coffee / tea in decorative favor bags and tied with colored twist ties
Candy favors - Small boxes (found at party stores) filled with chocolates
Tiny bottle of your favorite drink - Match to your theme (tequila for Mexican theme, wine for wine tasting theme...)
Eco Friendly Gifts
Some hosts are committed to making the planet a better place for everyone, which makes eco-friendly homemade party favors a perfect fit. Give your guests a gift that keeps on giving such as a flower bulb or other plant seed and a tiny pot. These are both easy to put together, reasonably priced and will be appreciated by all. Other homemade ideas:
Small bamboo plants
Ladies - Handmade bubble bath and soaps
Kids - Melt down all those broken crayons and use a cookie cutter to create rainbow crayon party favors. Create holes with punchers and string them on yarn to make necklaces for girl parties.
Herbed oils and vinaigrette
Hand Made Party Favors
Making homemade party favors completely by hand is definitely a labor of love, especially if you are having a large get-together. Here are some ideas for specific types of theme parties:
Kid's Birthday - Magic wands, bead bracelet, eye patch (boys), hair clips, pinwheels
Baby Shower - Beaded diaper pin, decorated bookmark (due date?)
Adult Birthday - Cupcake favor, hot cocoa, warm cookies on the way out the door. You can buy favor boxes at local stores.
Cheap Personalized Party Favors
For wedding parties, consider decorated candy bar wrappers with a picture of the bride and groom and/or wedding date. Either make them yourself on your computer or order candy wrappers from our partner, Announce It!
These cheap personalized party favors have adorable graphics with many sizes and prices to fit any budget.
Some people are hesitant to make their own favors for fear they will look cheap, however with a little creativity they will be more unique and will be more appreciated than anything you can purchase at a store.