Homemade Halloween Costumes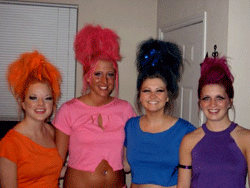 Every year we attend a party in October and my husband and I end up making our own homemade Halloween costumes.
Why? Mostly because we are last-minute-Louies and are usually scrambling around trying to make something out of the things we have laying around the house!
Our family and friends like to make their own too mainly because they are almost always less expensive and usually funnier. This photo is of my daughter (the one in the blue) and her college roommates in their homemade Halloween costumes.
They went to a Hobby Lobby or Michael's store and bought tshirts and shorts to match, all in different colors.
Then they cut up the shirts so that they would all be different, put on some heavy makeup and used coordinating ribbon for accessories like jewelry and hair bows.
Craft stores, by the way, are a great place to find things to make costume accessories. I love looking in the dried and silk flowers area. One year I made a headpiece out of dried flowers, ribbon and a grapevine wreath.
The best part about my daughter's homemade Halloween costume is what she did with her hair. This part of the costume probably took the most time but still easy. Here's how she did it:
Picked a washable hair color to match her outfit
Ratted her hair and colored it
Stood an empty water bottle on top of her head.
Gathered ratted hair up around the bottle and used a rubber band to secure hair at the top of the bottle
Accessorized with sparkles, rhinestones and ribbons
Look at these homemade costumes a couple of our friends wore to the annual Halloween party. The guy on the left is "Static Cling" and obviously made this costume himself.
He collected a bunch of miscelleneous laundry items and some used dryer sheets. Then he hot glued them all over an old sweatshirt (of course there had to be pink ladies panties plastered across his chest!).
I laughed so hard when I saw him because it was funny and so very clever. One of the easiest homemade costumes I have ever seen and I loved this idea because you could just wear jeans with it. No masks, no frills, just simple, funny and comfortable. My style completely.
The guy on the right made this homemade costume out of a bunch of torn up sheets. He is a painter by trade so I think he hot glued them to some old painter's pants and a shirt, wrapping the sheets around and around until he looked like the perfect mummy.
Then he smeared on white face paint, made dark circles around his eyes and tied some sheets around his head. Wha-lah!
More Homemade Halloween Costumes
Over the years, I have gathered several photos of homemade halloween costumes mostly from family and friends. Thought my visitors might find these photos helpful so I share them all here.
Easy Halloween Costumes - See photos of some easy halloween costumes you can make, homemade, using items you already have. Minimal expense involved and super simple to make.
Unique Halloween Costumes - These unique Halloween costumes were homemade by friends and family. As you can see in the photos, they are very different from what you would normally see.
Quick Easy Halloween Costumes - Four ideas for quick easy halloween costumes that you can put together last minute. Photos help you make them yourself.
Last Minute Halloween Costumes - If you ran out of time and need some ideas for last minute Halloween costumes, these 4 photos might help.
Cool Costumes For Groups - Refer to these photos of cool costumes when you need inspiration. These Halloween costumes for groups or individuals can be put together in no time.
Halloween Costumes For Couples - These five Halloween costumes for couples are easy to make and pretty creative. How about going as a Cialis bathtub couple or Super Mario and Luigi?
Funny Halloween Costumes - Funny Halloween costumes are always a hit. Here you will find several photos showing ideas that are homemade, easy to make and won't break the bank.
Homemade Halloween Costumes Photos - Here you will find a slideshow full of homemade Halloween costumes photos. Pause the show at any time to get a better look at funny costume ideas for groups, couples and more.