Women Parties
Before I get in to the nitty gritty of planning Women Parties, I first want to explain my inspiration for wanting to do such a page. I have been lucky enough to have always had quality women in my life.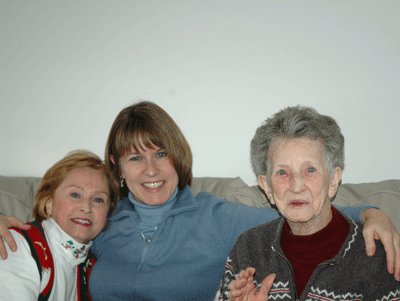 It started when I was young with my Mom and Grandma (shown here with me). Although I did not realize it when I was growing up, these two were not your average women.
Looking back on it, I now get the fact that they were truly superstars, able to keep all the balls in the air and still have time to make me feel ultra special. It is amazing what these women were able to accomplish in their lives.
I have also been lucky enough to have had two sisters in my life; one older and one younger. Each provided different experiences along the way and they have become even more special to me as an adult.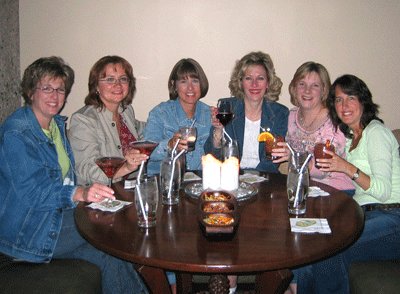 As I got older, I remember my girlfriends becoming a very important part of my life, beginning with Barbies, birthday parties and sleep overs. In my teens, going to girl parties and sharing secrets about boys. And then in college, sharing our first dorm room and apartment together.
There was a whole cast of women helping me through my bachelorette party, my showers and my wedding. From in-laws to sisters, nieces, great aunts and cousins, these spectacular women were always there for me.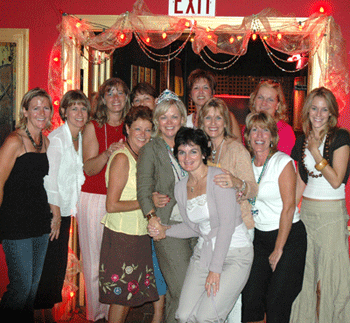 Then, along came my daughter. There are no words that can describe how I feel about this special young lady. She is bright and supportive and a mother could not ask for a more dedicated daughter.
And as my children grew and I worked at various jobs, I made some of the best girlfriends of my life.
They have shared the ups and downs with me, laughed and cried with me and generally supported me all along the way.
It is to all of these special ladies that I now dedicate this page about Women Parties. We all have special women in our lives so let's remember to celebrate our special bond. Take the time to plan special get togethers and truly enjoy each other's company.
Ladies Night In
This idea was submitted by a Theme Party Queen visitor. Colleen and her girlfriends came up with some great games to play with their favorite accessory.
Bunco Theme Party
One of my favorite women parties is to host a Bunco Theme Party. Learn everything you need to know here, including How to Play Bunco, Setting up Your Home and get Free Bunco Score Cards and bunco recipes.
Easy Fondue Party
Want to learn how to host an easy Fondue Party at your home? Find useful tips on party attire, choosing fondue pots and fountains and selecting the perfect fondue recipes and dipping sauces.
Wine Tasting Party
Another great idea for women parties is to host a Wine Tasting Party. Find party planning tips, including types of wine parties, how to set up your home, how much wine to buy and Wine-Cheese pairing ideas.
Ladies Night Martini Party
Host a ladies night martini party at home for a few of your favorite girlfriends. Choose a couple favorite martini recipes, few appetizers and let the party begin.
Click here to see what other visitors have contributed. So many great ideas for Ladies Night In fun! Share your ideas here too.
Ladies Night Out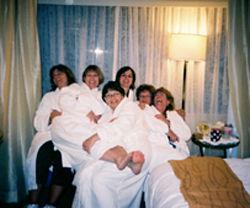 Some of my girlfriends and I had been talking about wanting to get away for a girls-only weekend. Next thing I knew, one of them had received an email alert from Travelzoo.com and noticed that a certain Chicago hotel, just an hour from home, was offering a great deal on room rates.
So 13 of us loaded up some coolers with appetizers and drinks and headed downtown for our big getaway.
We ate and we drank and we shopped. We gossipped and we giggled and ate and drank some more.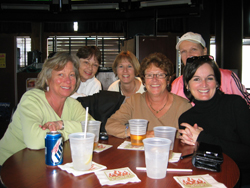 We dressed up in hotel bathrobes and hung around in one of the rooms. This picture shows just a few of us.
On one day, the group split up and some of us took the El train to Wrigleyville (the area surrounding the Cubs Baseball Stadium) because the Cubs were playing that day.
We did a little Pub Crawl where we visited several of the bars close to the stadium then caught a cab back to the hotel and met up with everybody else for dinner.
This picture was taken at the beginning of the Pub Crawl. You can't beat a weekend away with your girlfriends. No worries man!
Train Crawl
My girlfriends and I are currently planning a "Staycation" in our home town. What is a Staycation you might ask?
With the high cost of vacations these days, many folks are opting to stay in their home towns as opposed to paying for plane fare and expensive hotels. It might sound silly to some people but we have reserved a few hotel rooms in our home town and are planning a big night away from home. Well, kind of away from home.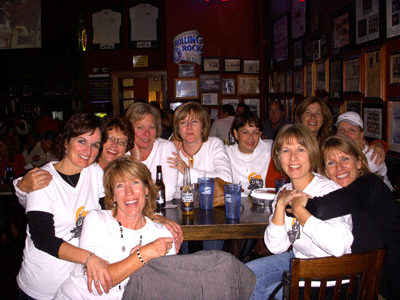 We happen to live on a train line that goes into the city of Chicago. Between our home town and downtown Chicago, there are several really cool little towns, right on the train line.
Our plan is to meet in the afternoon at the hotel, have a cocktail and some appetizers and then catch the hotel shuttle over to the train station. After a half hour train ride, we'll jump off and walk to a really cool Mexican restaurant.
When we're finished with dinner, we'll get back on the train and start making our way back to our home town, stopping at several establishments on the way back, thus the name "Train Crawl."
Visitors like you have contributed several more ideas for Ladies Night Out including "Old Broads Club" and "Ya Ya Ladies Party". Check them out!
One of the things we have planned is to get matching Train Crawl Shirts that list all of the establishments that we will visit. Check them out. I have a funny feeling that train crawling with my girlfriends will become an annual event.
UPDATE: Our Train Crawl was a huge success! We wore our matching shirts, visited 6 different establishments along the train line and ended our evening at the Holiday Inn, just a mile from home, where we stayed overnight.
It is definitely not important how far away from home you go. What is important is that you bring along your favorite girlfriends and cherish the moments that you have together.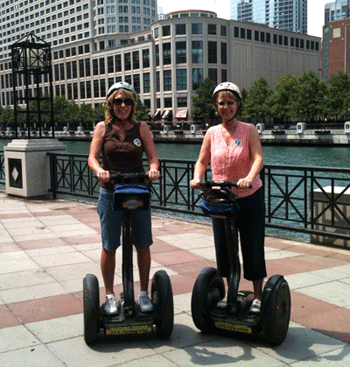 If you want to go out and about, plan day activities like touring a close-by city on a boat or bus, going to a museum or afternoon tea or arranging a segway tour if you live near a city that offers them, like Chicago.
My friend and I recently did just that and it was a great way to spend the afternoon with a girlfriend. You can read about our Chicago segway tour here. After the 3 hour tour was over, we stopped at a couple different bars and had cocktails and appetizers then made our way back home on the train.
Segway tours are available in several other big cities including Washington DC, Atlanta, New York and San Franscisco.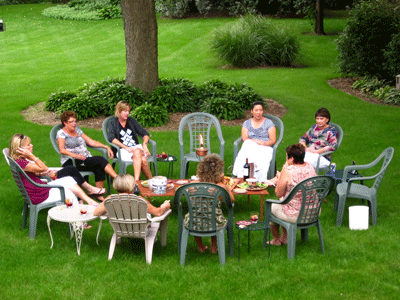 Another fun thing to do with girlfriends is to gather in somebody's backyard. I recently hosted what I called a "Sangria Soiree." I invited a bunch of my women friends and made a gigantic terra cotta urn full of fruity Sangria.
As you can see in this photo, we arranged the chairs in a circle and placed a low table in the middle and a few smaller tables between some of the chairs.
Then we placed a bunch of appetizers on the table, including Sweet Corn Dip and Pineapple Pecan Spread and added my favorite copper torch in the middle to keep the bugs at bay.
The Sangria was a huge hit. Get the recipe here along with several other easy punch recipes.
The quality of my life is truly enriched because of my female friends and relatives. Whether you choose to take the Party on the Road or host a Bunco Theme Party, or Wine Tasting Party, plan some women parties and celebrate the relationships you have with the wonderful women in your life every chance you get.