Valentines Day Ideas
Are you looking for some Valentines Day Ideas? How about hosting a get-together at home for some of your closest friends? Here, we share a few of our favorite tips to help you plan the perfect evening.
Several years ago, my husband and I attended a theme party for couples, hosted by some of our friends. I won't go into all the details here but I will tell you about some of my favorite ideas they used that night.
When we first arrived, we were immediately greeted with a cocktail. The hosts were offering glasses of red wine, champagne with one raspberry sunk in the bottom of the flute and a couple different martinis like our Chocolate Covered Cherry Martinis or Vanilla Peppermint Pattitinis. A very nice way to start the evening.
Valentines Day Party Decorations
For this type of couples Valentines get-together, classy, understated decorations are definitely the way to go.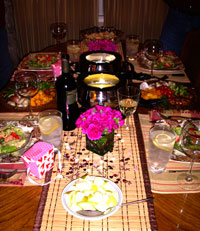 After a short cocktail time, the 5 couples in attendance were led to a beautifully set dining table, complete with fresh flowers and unscented candles. The table linens matched perfectly and the sparkling crystal set off everything. Simple, yet stunning.
Unfortunately, I do not have a picture from that theme party but this picture is from a Valentines fondue party I hosted last year.
The only decorations I used were fresh flowers, with glass beads in the bottom of the vases, and confetti. Additionally the table runner, place mats and Valentine party favors added color to match my theme.
For other types of Valentine parties, balloons and confetti, heart shaped if you can find them, are an easy way to dress things up. Tie some balloons to tables and chairs around the house, throw some confetti on your food tables and use candles everywhere. Using red, pink, white and purple hues help set the mood for Valentines Day theme parties.
Valentines Day Gift Ideas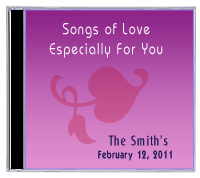 A very simple, yet much appreciated Valentines day gift idea comes from our friends who hosted the evening I described above.
In addition to the beautiful table decorations, they laid a CD gift of 10 love songs in front of each ladie's' place setting which the hosts burned themselves. They designed the cover art to commemorate the evening. It had a simple orchid design with hearts, their name and the date of the party. What a nice gesture and one of my favorite Valentines day gift ideas. Super easy and inexpensive.
Another gift idea that is always appreciated is something edible like a cookie bouquet from our partner Cookies in Bloom. Who wouldn't want to receive these hand decorated cookies as a gift? I know I would.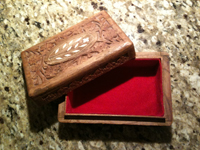 This one is for people who want to make their own Valentines Day gift inexpensively. When I was in college, I wanted to give my boyfriend, who is now my husband, a very special gift but I had very little money to spend.
With the help of my Grandma, I bought an interesting wooden box and we lined it with pink felt, attached using fabric glue. After letting it dry overnight, I filled it with Hershey kisses and gave it to him with a card.
Another great Valentines Day gift
is one from our favorite partner sites, Novica.com. Handmade by artists from all over the world, these pieces are very unique and an artisan story card is included with every gift.
And our final Valentines Day gift suggestion? I hosted a fondue theme party last year and gave my guests a little Chinese take out box filled with chocolates.
You can see one of them in the picture above. They are also very inexpensive Valentine gifts and they can be purchased at most party supply stores and can be filled with whatever you want to match your theme.
Once you get passed the short advertisement, this video is filled with all sorts of Valentines Day gift and favor ideas from a Yahoo representative, many of which you can make yourself very inexpensively.
Valentines gifts don't have to cost alot. It really is the thought that counts most.
Valentines Day Theme Party Recipes
Our Valentines Day ideas for food choices are very simple. At our friends Valentines day party, they served a very simple, yet perfectly balanced meal that I have thought about quite often ever since. All they did was marinate a couple of pork tenderloins, seared them in a hot skillet on all sides then baked them at 350 degrees for about 25 minutes. An elegant choice that won't break the bank.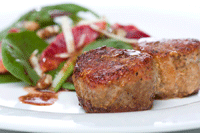 Then they served the pork with steamed green beans, a crispy, green salad and some warm rolls. That's it! Simple, healthy food.
I can't remember exactly what they served for dessert, but this is an easy one. Anything chocolate related will do. I especially love our Chocolate Amaretto Cake with raspberries for Valentines Day.
Another great choice for 6-8 people is to do an easy fondue theme party. Pick two savory dishes like Traditional Cheese Fondue and Hot Crab Fondue and one chocolate fondue like Grand Marnier Chocolate Fondue.
Visit our fondue party page for more information on how to host a fondue party.
Valentines Day Game and Party Favor Ideas
If you are looking for some fun Valentines day ideas for games try out a few of these.
Mend a Broken Heart - A game that is great for getting guests who don't know one another to mingle. Basically, all you need is some red construction paper. Cut out some red hearts, and then cut the same hearts in half in a zig-zag motion. Throw all the hearts in a bag. Have each person grab a heart-half. Encourage everyone to find the other individual with the other piece of their broken heart.



Love Thy Neighbor - A Valentines game that can be played by both children and adults. Simply provide each of your guests with a pen and paper. Set the timer for 2 minutes. Have each person write as many kind things down as they can about the person they are sitting next to. Make sure that everyone gets turns with everyone in the room. It's a great way to spread the love.
Find a great selection of Adult Party Games here that are perfect of your Valentines day theme party.
Several of the theme parties that we talk about at Theme Party Queen are generally geared toward large numbers of people, but we especially like Valentines Party ideas that cater to smaller gatherings. It is the perfect time to host a dinner party with an intimate group of your favorite people.