Birthday Parties At Home
Do you have a big birthday bash to plan in the near future? You could rent a location and go all out, but you might find that birthday parties at home are just as much fun. Creating the right atmosphere in your living room or backyard is not as difficult as you might think, nor as expensive.
1st Birthday Party Ideas - The best 1st birthday party ideas are super simple like those found here. Kids at this age are too young for elaborate themes so stick with the basics; cake, easy games and simple decorations.
13th Birthday Party Ideas - There are so many great 13th birthday party ideas because you can do so much with kids this age. Read how we celebrated with our kids plus some other simple and inexpensive ideas.
16th Birthday Party Ideas - Coming up with 16th birthday party ideas is challenging because your child is on the brink of adulthood and will not appreciate anything childish. Find some age appropriate ideas here.
18th Birthday Party Ideas - What kind of 18th birthday party ideas are your almost-adult-child going to want to participate in? First, make sure you respect their time and always plan events that include their friends.
21st Birthday Party Ideas - Pick up a few 21st birthday party ideas to ensure the guest of honor has a good time. There is more to turning 21 than drinking alcohol. Find good, clean party ideas here.
30th Birthday Party Ideas - The best 30th birthday party ideas celebrate the person's life without embarrassing them too much. Almost any kind of party is acceptable at this age including over the hill themes.
Planning a 40th Birthday Party Ideas - Planning a 40th birthday party is a bit trickier than some because many people are overly sensitive about growing old. You can still host a great event emphasizing life ahead instead of lamenting days gone by.
50th Birthday Party Theme - Choose a 50th birthday party theme that matches the honoree's personality. If the person sees the humor in growing old, a funeral theme is a good choice. For the more lighthearted, karaoke or intimate dinner parties work well.
More Birthday Parties At Home - Decade Theme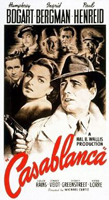 A decade party can be fantastic fun and very easy to put together. Whether you are planning a party around the 40's, 70's, 80's or another decade, there are a multitude of ways you can put these parties together. Here are a few simple ideas:
Pick a favorite movie from the decade the person was born and plan your theme around it. Include food, music and even costumes from the movie. For example, "Casablanca" was released in 1942. Costumes can be patterned after what Humphrey Bogart and Ingrid Bergman wore.

Almost all 1940's homes canned their own fruits and vegetables so choose appetizers that include canned items like jams and pickles. A baked brie wheel with chutney would be perfect. Cupcakes and other homemade treats were popular then as well.

Choose music from the decade - This is an obvious way to create ambience for home decade parties.
Have everyone find dress up items from that era at resale shops
Movie posters and album covers make great decorations
Trivia games are always a crowd pleaser and work for almost all age groups. Our partner, A to Z Printable Games has a nice selection of decade printable games.
Summertime Parties at Home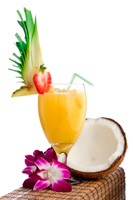 When you are planning outdoor parties at home, the themes are practically endless. A simple backyard barbeque with streamers, banners and tiki torches is one of the simplest birthday parties at home you can throw. They are a particular favorite with the crowd who prefers to dress casual. You can set up all sorts of games in the backyard including:
Limbo
Bean bag toss
Ring toss
Water balloons
Hawaiian luau themes, complete with grass skirts, torches and leis are always fun. Guests usually like them because costume items are easy to find. Throw on a Hawaiian or colorful shirt and maybe a lei and they are ready to go.
Over the Hill Parties at Home
Over the hill birthday parties at home are pretty common for people celebrating their 40th, 50th or 60th birthday. You have probably either hosted one at home or attended one yourself.
Black balloons are essential for over the hill parties but more creative decorations include skeletons, rocking chairs, canes and anything else that pokes fun at getting older. Other ideas: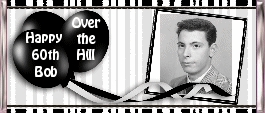 Tombstone cake
Black streamers, balloons and party plates
Over the Hill banners, paper goods, placemats etc...
Old geezer glasses
Over the hill candy bar wrappers - Our partner, Announce It!, sells cheap personalized party favors on line like the candy bar wrappers shown here. There are several different styles to choose from and the prices are reasonable.