Party Vacations
Take the Party on the Road


There are so many great party destinations to choose from. Two of our favorites are Chicago, IL and Orlando, FL. Not only are these cities top notch party destinations, but they offer so much to see and do for people of all ages.
Whether you just want to hang poolside or live it up at a comedy club, you will find that these cities have everything that you could possibly want in a party destination and more.
Orlando-Kissimmee Florida Area
One of our favorite party vacations is going to the Orange Lake Resort and Country Club in Kissimmee, Florida, which is only 10 minutes away from Walt Disney World in Orlando. This resort was developed by the same guy who started Holiday Inn, Kemmons Wilson.
We found this resort in 2003 when a group of 7 families from Illinois were looking for a place to go for Spring break. One of the ladies in the group mentioned a place in the Orlando area where her family had visited when she was a little girl and had many fond memories of vacations they had spent there together.
It was not long before the first trip to Orange Lake was organized and everyone (about 40 people) hopped on a bus and headed for Orlando. It seemed like the perfect place for party getaways.
Click here to learn more about Orange Lake Country Club and Resort.
My family was not able to go on that trip and for the rest of the year, I had to listen to my friends go on and on about how much fun they had at Orange Lake. Oh the stories they would tell!
So much fun in fact, that everyone wanted to go back.
The second year (2004), my family was able to go. I wasn't about to miss out on this trip again!
Many of the people in our group are school teachers so we again planned the trip for Spring break. This time we had 14 families and over 70 people. This picture shows the group in our matching Orange Lake T-shirts. Ages range from 2 to 80 years old.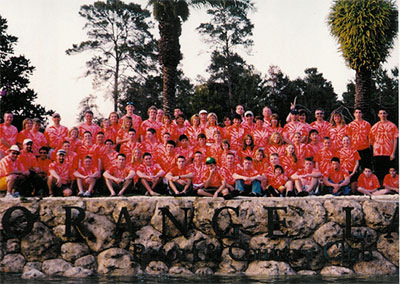 And so our annual trips to Orange Lake began. We have gone every year since then and have had such a great time. In my opinion, nothing compares to this party resort if you are going to the Orlando area.
Read about the history of the resort, the accommodations and activities and my personal account of our Orange Lake experience over the years. See some great pictures too!
Click here to learn more about Orange Lake Country Club and Resort in Kissimmee, Florida.
Chicago, Illinois
Having lived in Chicagoland for over 20 years, we can personally recommend this great city for your next outing.

Before visiting, check out our Party in Chicago page to learn more about where to stay and party in Chicago, a list of the best Chicago restaurants and what to do while you are there.