1st Birthday Party Ideas
The best 1st birthday party ideas highlight the honoree's emerging personality and celebrate their journey into toddlerhood. They are really too young to participate in gigantic theme affairs but you can still have some fun.
1st Birthday Party Ideas - Little Mess Maker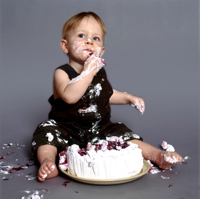 Turn the traditional prince or princess party idea upside down and have a mess maker event instead. Rather than a tutu-style pale pink dress, go for a pair of pajamas or another outfit that your child finds comfortable. Little boys should trade in the old school prince crown for something comfortable as well.
Display pictures of your child in their messiest moments. Collect these from your photo collections of their first year of life or take them in different situations the week before the event. Blow them up and display them around the venue.
Don't let your little mess maker be the only one letting loose! This is one of those 1st birthday party ideas that can be a lot of fun for all the guests as well. Inform everyone that you are having a mess maker theme event and they should wear old, comfortable clothing.
Get creative. Take the silverware away and make everyone eat cake just as your little one does. Have games that are messy, such as an apple bobbing station using caramel covered apples or finger painting for everybody.
Wet and Wild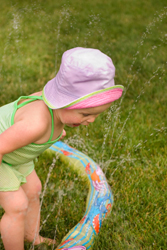 This is another one of those 1st birthday party ideas that are tons of fun for guests, especially if a lot of other children will be attending the theme event. This is best carried out in a climate that is warm year round or for birthdays that fall during the spring or summertime.
Turn your yard into a water park! Have age-appropriate games that are supervised at all times. Sprinklers and small pools work well for babies and toddlers while dunk tanks and larger pools are perfect for older guests.
You can come up with all sorts of contests and prizes related to water. One is the Water Transfer game which is explained on our Yard Party page and is suitable for kids 8 and up.
1st Birthday Party Ideas - Baby is a Superstar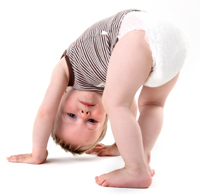 Turn your little baby into a superstar by following them around the house to capture bits and pieces of their everyday life as an almost-one-year-old. Make sure to make this a real movie with everything from temper tantrums and messy faces to sloppy kisses and oopsies.
You can use free editing programs downloaded from the internet to create one movie clip from individual clips of film. Then you are all set to turn the first birthday party into a viewing party. Supply the popcorn and an endless flow of drinks and let everyone who loves your baby see how they are living the first year of their life and what they are like going into the second year of their life.
Scrapbook Party
Scrapbook parties are tons of fun. Simply set up tables with blank 12x12 scrapbook paper and tons of embellishments. Provide pictures of your baby during the first year of life or allow guests to take their own digital pictures at the party and print them on the spot.
Guests can either help you make pages for your baby's book as a way of honoring his/her birthday, or if you invited other mothers, they can create pages for their own book.
Final Word
First birthday party ideas are really more about the parents and guests than the child. Other than eating cake with their hands and being coaxed to open presents, they are really too young to participate. Spending time with friends and family is really what this birthday is all about.