21st Birthday Party Ideas
The 21st birthday is a big rite of passage in many places around the world. In some countries it signifies the end of childhood and the beginning of a new road of responsibilities in the adult world.
The 21st birthday party ideas that you decide to use should celebrate the person's unique character and life experiences up until the present.
21st Birthday Party Ideas - Decorations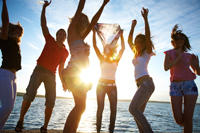 You really have free reign when it comes to decorations for a 21st birthday event. Of course, you should focus on decorating the house, bar or other venue with things that hold meaning for the person having the birthday.
For instance, if it is your son who is into surfing, host a party on a beach, or if you can't do that, create some fake waves out of blue paper to line the walls and use beach theme decorations, food and music.
One popular idea, regardless of what the birthday person is in to, is to create a photo board. This is essentially a cork or poster board with a lot of photos from interesting or funny points in the person's life pinned to it.
Photo boards allow people to see what the person was like as a kid and they also make for great conversation for guests at the theme event who don't know each other.
21st Birthday Party Ideas - Activities and Games
At some point during the day, encourage family and friends to each give a 2 minute speech about the guest of honor. Funny stories or most embarrassing moments are always a hit with guests and hopefully not too embarassing for the person turning 21.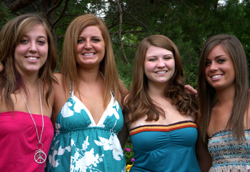 The presenting of the "keys to the door" is another activity that sometimes takes place at a 21st birthday. It's not as common as it used to be, since many legal ages for activities like drinking alcohol have been lowered in certain parts of America and around the world. Because of that, the age of 21 doesn't hold the same weight these days, but some people still like to hand over the 21st key as a symbol of passing into adulthood.
Another fun activity is to provide an autograph book with colored pens so people can record their fondest memory of the person. At the end of the event, the guest of honor will have a nice keepsake.
One last activities idea: To ensure that the night is recorded in pictures, set out disposable cameras on all the tables and encourage people to take photos. Develop them and provide the guest of honor with a keepsake album. The photos that you would take are different than what others take so you end up with a great variety of candid images to fill the book.
21st Birthday Party Ideas - Food and Drink Ideas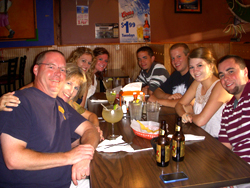 If the 21st birthday is to be hosted at a bar, traditionally the parents will start a tab for free or cheap drinks. A full dinner is usually not expected on these occasions, so it is fine to provide small snack foods and hors d'oeuvres to be passed around.
For smaller more intimate family birthday events you can sit down to a meal. Plan to either go to a favorite restaurant or cook their favorite style of food.
In this photo, you can see us at my daughter's 21st birthday party at her favorite Mexican restaurant. We took a few of her friends with us and partied around town after dinner, then hired a car service to get everybody home safely.
If you are hosting a house party, click here for some of our favorite Birthday Party Recipes.
21st Birthday Party Ideas - Final Tips for Hosting
When it comes to 21st birthday party ideas, you are better off consulting the birthday person about the plans. Surprise parties are not such a good idea for an important event like this one especially since most 21-year-olds embarass easily.
This is particularly important if the event has a theme - you don't want to plan a Mariah Carey theme night only to find out the birthday girl or boy gave up liking Mariah when they were 18 years old.