All Clad Stainless Cookware Reviews
by Sandee
(www.theme-party-queen.com)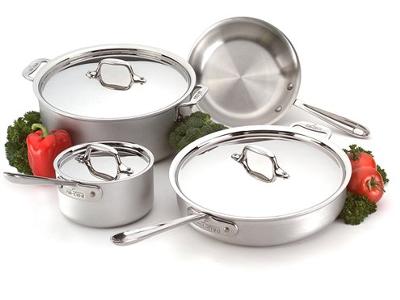 The mirror finish on each All Clad stainless steel cookware piece is the feature that everyone notices immediately. Although this finish gives the cookware a modern look, consumers really like the classic design of each piece. This brand is known for combining style and beauty with top rated functionality.

All Clad uses 18/10 magnetic stainless steel for all of their pots and pans. You can put these pieces in the dishwasher for easy clean up and they work well with induction style cook tops.

Every piece of stainless steel cookware from All Clad actually has an aluminum core covered by mirror finished stainless steel. This is how they are able to produce pots and pans that are so aesthetically attractive without losing the ability to heat evenly and last for many years.

Benefits of All Clad Stainless Cookware

The even heating and superior cooking abilities of All Clad cookware is definitely an advantage. This cookware line is often chosen for professional kitchens and many chefs use these pieces in their own home kitchens as well. You get professional quality and the best materials when you go with stainless steel cookware from All Clad.

The appearance of the pots and pans from this brand is another benefit. This is what actually wins many consumers over because they have such sleek modern appearance while sticking with very traditional or classic pot designs.

Bottom Line

Some stainless steel pots and pans from other top brands get thumbs down from consumers because they start to rust very soon after purchase. This is not a problem with All Clad stainless cookware. Consumers are overwhelmingly supportive of the stainless products from this American brand.

The biggest compliment tends to be that the pots and pans are heavy enough to avoid hot spots. This means the cookware heats up evenly in all areas, which prevents burning in certain areas.

The biggest complaint against the company today is that they rest on the American pride sentiment, but not all of their products come completely from the U.S. The catch may be that they claim to use American metal sources, but they don't outright claim to be completely manufactured in the U.S.

Visit our partner, Cooking.com, for more information on All Clad Stainless Cookware
.



Join in and write your own page! It's easy to do. How? Simply click here to return to All Clad Cookware.
Want To Stay In Touch With Theme Party Queen?
Here's how you do it:
Our goal is to create a community of like-minded people who like to share ideas and who are open to making new friendships. We would love for you to join us today.