Analon Cookware Reviews
by Sandee
(www.theme-party-queen.com)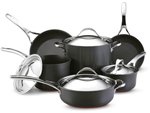 Analon Cookware Reviews: The Gourmet Authority for Home. You won't walk into a discount store and find Analon cookware on the shelf.

Analon designs cookware, bakeware, cutlery, and a variety of kitchen tools and gadgets especially for serious chefs.

Their products are tested in restaurants before hitting the shelves for residential as well and business consumers.

You can purchase individual pots and pans from Analon or splurge and purchase cookware sets to complete your cooking needs. The emphasis is on quality, so the brand uses all the best materials to design their cookware and they are known for offering the latest technological advances in cookware as well.

Analon Cookware Features

You can expect very high quality materials to be used in all cookware from this brand, but there are a few materials that are used quite often:

Copper
Hard-Anodized Aluminum
Stainless Steel

You can find these different materials incorporated into different types of cookware. Each piece of cookware is designed to work for specific jobs in the kitchen. They have some very unique features that just won't be found on cheap cookware, such as:

Sloped sides so it is easier to stir and rotate food within a pan.
Straining saucepan with spouts so you can cook covered meals, strain and pour from a single dish.
Saute pans with high sides so they work like a skillet but can easily accommodate sauces and liquids.

Even when you think a pot or pan from Analon looks just like any other piece of cookware on the market, you start reading about the advanced level of testing that they have been put through. For instance, many Analon pans have a special nonstick coating that has been tested in restaurants with passing grades.

Benefits of Analon Cookware

The benefit of purchasing cookware from Analon is knowing that you are using top quality cookware designed from the best materials. The special design features make cooking more enjoyable and a lot easier.

For instance, some of the pans are shaped more like salad bowls than pans. This unique design on the sides allows you to slip eggs or other items out of the pan and onto a plate with delicate ease. The specialty straining pot allows you to strain out pasta without using a separate strainer.

The high tech, well tested features like the nonstick coating, give some extra benefit as well. You won't have to worry about the coating flaking off into your food as often happens with cheap cookware.

The Final Word

There are a lot of consumer reviews out there for Analon cookware sets. Most consumers tend to approve of them because they heat evenly and most show few to no scratches even after years of use.

Even consumers who aren't very good in the kitchen remark that their cooking skills improve with the excellent nonstick coating and the other technologies worked into these pots and pans.

The bronze cookware collection tends to get the best comments from consumers with the aluminum cookware coming in with more complaints.

The aluminum pans are criticized for being extremely light in weight, which is a result of the aluminum being used instead of bronze and copper. These pans are still better than many others on the market, but when consumers compare them to other Analon pots and pans they simply fall short of what is expected from the brand.

Visit our partner, Cooking.com, for a fine selection of Analon Cookware.

Join in and write your own page! It's easy to do. How? Simply click here to return to Best Cookware Set.
Want To Stay In Touch With Theme Party Queen?
Here's how you do it:
Our goal is to create a community of like-minded people who like to share ideas and who are open to making new friendships. We would love for you to join us today.