Anolon Advanced Cookware Reviews
by Sandee
(www.theme-party-queen.com)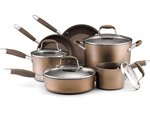 Anolon Advanced cookware is manufactured by Meyer Corporation. They are the largest cookware distributor in the United States and second in the world. Meyer got their start in Hong Kong, and the name is a transliteration of Chinese words beautiful and Asia.

Today they are based in Vallejo California and hold licenses for products under the Farberware and Kitchenaid labels. There are many lines of dishes and cookware produced by this company and Anolon is a very popular cookware line.

Features

Anolon cookware is made of hard-anodized aluminum and has a very nice non-stick surface. This manufacturing process creates an even and rapidly heating surface. One of the biggest problems with cookware is cold spots, which makes creating the perfect meal nearly impossible.

Anodized aluminum can be one of the hardest substances on earth if the process is done correctly, which means your pans will be practically indestructible. The metal goes through a series of processes, including an acid bath and electric current.

Another thing many people look for in a set of cookware is a good durable non-stick surface. Many pans claim to have the best non-stick coating but Anolon Advanced cookware has been restaurant tested and chefs agree this is one of the best on the market today. Nothing is worse than stuck on food when you are trying to create a great evening meal.

How your pans look is not really important when it comes to how well a pan will cook your favorite dish, however if you can get quality pots and pans that are also stain and chip resistant why not? Anolon has a stain resistant surface created by five extra steps instituted during the manufacturing process.

Stainless steel lids with more clearance for safety top off these pans with a flourish. They are comfortable in the hand and oven and these lids fit snugly to lock in moisture and nutrients.

Consumer Reviews

Non-stick Teflon surfaces are nothing new, however if you think all Teflon pans are created equally you would be mistaken. Anolon Advanced cookware actually perform like they are supposed to and if you clean them properly the Teflon will last you a lifetime or longer.

Of course this means you are limited in the type of utensils you can use. Do not use metal in these pans and remember to wash them gently with warm soapy water and a gently sponge.

Bottom Line

Anolon Advanced cookware is some of the best cookware you will come across. If you have been putting off updating your current set of pots and pans for one reason or another, find an excuse to treat yourself today. You will be happy you made the switch.



Join in and write your own page! It's easy to do. How? Simply click here to return to All Clad Cookware.
Want To Stay In Touch With Theme Party Queen?
Here's how you do it:
Our goal is to create a community of like-minded people who like to share ideas and who are open to making new friendships. We would love for you to join us today.