Basic Essentials Cookware Reviews
by Sandee
(www.theme-party-queen.com)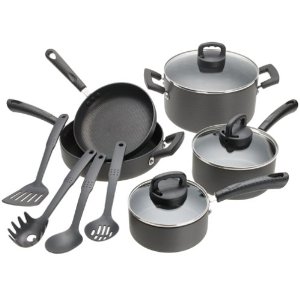 There are times when you need a basic set of pots and pans, but do not have a lot of money to spend. This is where Basic Essentials cookware comes into play.

These pans are available from several online retailers as well as brick and mortar businesses. They are much more affordable than many comparable pan sets. Here are a few things you need to know about this particular line of pans.

Features

Basic Essentials sets come in a variety of packages, you can choose from single pans or complete sets. Whether you need a 10 piece set or a larger 17 piece, Basic cookware has got you covered. If you normally cook for one or two people, you may not need a complete set; on the other hand when you are cooking for a large family the more pans you have to choose from the better. Other features you will enjoy include:

Lightweight aluminum
Energy efficient
Bakelite handles stay cooler
High quality Teflon coating

Benefits

There are times when you simply need a good product at a reasonable price. Basic Essentials cookware fits the bill on both of these levels. They are more reasonably priced but still sturdy enough to get you through the day. The aluminum exterior is non-porous and scratch resistant. This makes them nonreactive to acidic foods and the heavy aluminum offers superior heat conductivity.

Several pan sets fall short when it comes to the handles. Basic Essentials has fixed this problem by triple riveting them to the pans making them less likely to break and they are made of dimpled plastic so they are less likely to slip from your grip.

Consumer Reviews

The best advertisement for any product is customer reviews. Here are a few things customers have had to say about Basic Essentials cookware:

"I am extremely happy with this set, though at first I was a bit skeptical given the price point. Thankfully, the pans are extremely easy to clean and food slides right off! One really fantastic thing about my set is the fact that they come with special nylon utensils to preserve the non-stick coating."

"If you are looking for a practical set of pans, these are the best you will find for the money."

Some customers have complained that the non-stick coating easily flakes off into food if you are not careful. This is true of almost any nonstick surface. You have to use nylon or wooden utensils.

Overall

Basic Essentials cookware offers a sturdy non-stick pan at an affordable price. You may even be surprised at the weight of these simple pans. The clear, shatter resistant lids with steam vent holes add to the practicality of each piece.



Join in and write your own page! It's easy to do. How? Simply click here to return to All Clad Cookware.
Want To Stay In Touch With Theme Party Queen?
Here's how you do it:
Our goal is to create a community of like-minded people who like to share ideas and who are open to making new friendships. We would love for you to join us today.