Best Nonstick Cookware
My primary set of pots and pans was given to me for a wedding gift 26 years ago. You can read about my Farberware Stainless Steel Cookware here.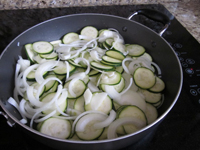 Although I use most pieces from this set regularly, I also have some of the best nonstick cookware, my T Fal skillets, that I use just about every day.
In addition to using these pans every day, when I am in full party-prep mode, my kitchen is mass chaos with the oven going and pans steaming on every burner. Thankfully my nonstick cookware is reliable.
Every host needs a great set of cookware, preferably some stainless steel and some nonstick cookware. My T fal skillets work perfectly for what I need on a daily basis and for when I entertain.
Best Nonstick Cookware - T Fal Cookware Review
I have 3 T fal cookware pieces that I use regularly; an 8 inch skillet, a 10 inch skillet and a 5 Qt. Jumbo cooker which you see in the photo above right filled with zucchini and onions. Making my Zucchini-Tomato Casserole is a breeze with this huge pan and lid. That pan is the best nonstick cookware piece I own! Two handles make it so easy to manipulate.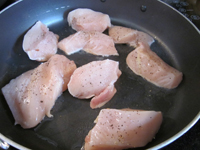 Just about every morning, I make some type of egg dish, whether it be a simple fried egg in my smallest T Fal pan or omelets in my medium size T Fal pan. Spray them with a little Pam, and eggs slide right out.
I have used T fal cookware for years but it wasn't until recently that I get better about not scratching them. Now I am very careful about what utensils I use in them and I have had the same pans now for about 4 years I think.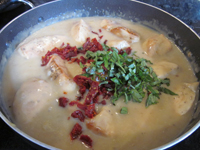 Before that I used to have to replace them every couple years because I scratched them alot. If you buy T fal, or really any kind of nonstick cookware, just make sure you use plastic or wooden utensils as opposed to metal spatulas and spoons.
The obvious benefit of using nonstick cookware is ease of cleanup. If you have ever cooked cheesy dishes or burned something in a traditional pan, you know why you love nonstick cookware as much as I do. It is reasonably priced, comes in all sizes, looks good, does a good job, and if taken care of properly, lasts forever.
Link To T Fal Cookware Set & Other Favorites
Our partner, Cooking.com, offers some of the best nonstick cookware on the market today. Some of our favorites are shown below.