Best Shortbread Recipe
I think I have found the best shortbread recipe ever. It is different than most traditional recipes because it includes vanilla which makes it much more flavorful, in my opinion.
Why do I say it is the best? Well, when I first got married, my Grandma gave me a recipe for Scottish shortbread that I used to make all the time because I was a new cook and it only had 3 ingredients; flour, sugar and butter. All of the flavor came from the butter which is very good, but kind of bland compared to other cookies.
Occasionally I decorated the top of the shortbread rounds with colored sugar which added a bit of pizazz and gave them more flavor. I liked the recipe at that time because I was a new cook and it called for only 3 ingredients. Here is the recipe for that one if you want the traditional variety.


Recipe for Scottish Shortbread
2 cups flour
2 sticks butter (8 oz.; don't substitute margarine!)
1/2 cup sugar
Preheat oven to 350 degrees. Mix all ingredients to form a dough.
Grease a cookie sheet. Divide dough into 2 equal portions and create a round with each that is about 1 inch thick.
Score the tops of the rounds in a criss cross pattern for easier cutting after baked. Decorate with colored sugar if desired.
Bake 20-25 minutes until lightly browned. Cut along score marks while still warm and cool on cooling racks. Fantastic dunked in a cup of tea with cream and sugar.
Best Shortbread Recipe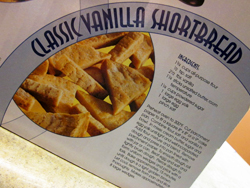 My Grandma's Scottish recipe is still very good, but you might also like this one that I found on the back of my Rival Chocolate Fondue box.
I think adding the eggs and vanilla makes this the best shortbread recipe ever especially if you dip them in warm, gooey chocolate! They are richer and more flavorful in my opinion.
1-3/4 cups flour
1/2 tsp salt
2-1/2 tablespoons vanilla
1-1/4 sticks, unsalted butter, softened
1-1/4 cups powdered sugar
1 large egg yolk
1 large egg
Pinch salt
Preheat oven to 300 degrees. Line a square 8x8 or a 9" cake pan with parchment paper.
Combine flour, salt and vanilla in bowl. In a mixer, cream butter, sugar and egg yolk until light annd well incorporated. Add flour mixture and blend.
Remove dough and press into pan lined with parchment. Beat egg and pinch of salt and lightly brush dough. Score dough to form uniform wedges and prick with a fork.
Bake approximately 15 minutes until dough is a light golden brown. Let cool, remove from pan and slice thoroughly. Makes 8 large shortbread wedges.
Note: I omitted the 1/2 tsp salt and used salted butter instead.

Interested in Fondue? Click here to learn how to host an Easy Fondue Party. Find recipes and more ideas for dippers too.