Bok Choy Oriental Salad
This Bok Choy Oriental Salad recipe was given to me by my friend Barb (head of table). She brought it to a fondue dinner party several years ago and it's become kind of a tradition ever since. You can see it in the bottom left corner of this photo.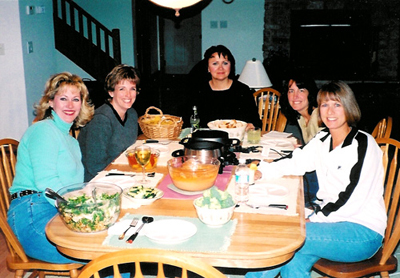 Before eating this salad, I had only tasted bok choy in cooked Chinese recipes so I was surprised at how good it is raw. I've grown to depend on this recipe, especially for brunches and potlucks, because it makes alot.

Bok Choy Oriental Salad Ingredients
1 medium head really fresh bok choy (use all, including stems)
3 scallions, chopped (use very little of the white part)
2 pkgs Ramen noodles, broken up (save seasoning for another recipe)
12 oz. slivered almonds
2-1/2 oz. sesame seeds
1/4 tsp. garlic powder
1 T. vegetable or canola oil
2 T. soy sauce
1/4 c. cider or rice vinegar
1/2 c. sugar
3/4 c. vegetable or canola oil
Combine Ramen noodles, almonds, sesame seeds and garlic powder. Saute in 1 T. oil until lightly browned. Cool completely.
Make dressing by heating soy sauce, vinegar, sugar and 3/4 c. oil in sauce pan. Boil no more than 1 minute. Cool completely.
Mix bok choy and scallions together in a trifle bowl. Just before serving, toss together with Ramen noodle mixture and dressing. Serves 8.
Find more brunch recipes here.
How To Cut Bok Choy
When I first started making this recipe, I had no idea how to cut bok choy. It is very similar to celery except that it has more leafy greens all of which is used in this salad.
This video, courtesy of eHow, shows how to cut up a bok choy.