Buffalo Chicken Dip
Excellent For Sandwiches Too!

I make this Buffalo Chicken Dip all the time. It has become one of my most requested recipes. We either use it as a dip with veggies and crackers or I buy small croissants, make a pocket in them and stuff with the chicken mixture. These sandwiches are perfect for tailgating and picnics.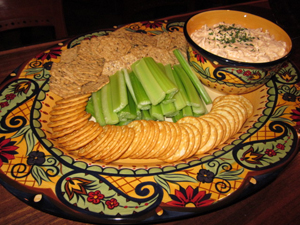 4 bone in-skin on chicken breast halves
Cooking oil, kosher salt and fresh ground pepper
2 tubs of Philidephia garden vegetable cream cheese or 2-8 oz. packages of plain cream cheese
12 oz. Frank's Red Hot Sauce or other brand of choice
Tostidos, Fritos Scoops, small croissants or assorted vegetables
Preheat oven to 375 degrees.
Place chicken on a cookie sheet and spray it with cooking oil. Sprinkle evenly with kosher salt and fresh ground black pepper. Bake 40 minutes or until skin is browned.
When chicken is cool enough to touch, remove skin and bones and shred chicken with fingers. Place in a large mixing bowl.
In a microwave safe bowl, soften cream cheese. Add about 1/3 of the bottle of Frank's and stir together. Taste mixture and continue adding Frank's until mixture is spiced to taste. I use about 1/3 to 1/2 of a bottle. Some people use more.
Combine cream cheese mixture with roasted chicken and stir well. If you like a looser consistency, stir in some milk.
Serve with veggies and crackers or make into sandwiches.
Note: This dip can be served warm or at room temperature. Don't try to serve it cold because it is too hard, like cream cheese.
Click here for more party recipes.