Build A Home Bar

Over 160 Fully Illustrated Pages Included
Some people are lucky enough to have a dedicated bar area within their home, like a basement, while others just use a kitchen counter or set up a table when they entertain.
For those of you with a big enough area, I'll bet you have wanted to build a home bar like the beautiful one shown in this picture. It certainly is less expensive than buying one of those already-constructed models plus building your own bar allows you to customize it.
Photos, Plans & Support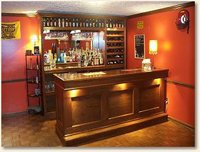 We were recently investigating home bar plans and came across Barplan.com. A quite impressive website if you are thinking about taking on such a project.
Pay a one time only fee of $19.95 (at the time of this writing) and you will receive:
Do You Have The Skills?
You may think you are skilled enough to build a bar yourself after looking at a few photos for ideas. If that's the case you will find plenty of ideas there.
Or maybe you need photos and the actual plans to ensure your bar comes out just the way you expected. Their plans are straightforward and easy to follow.
Maybe you are the person who wants photos, plans and help along the way. Well Barplan.com is right up your alley then! For $19.95 you get it all. Heck, a how-to book by itself would cost that much!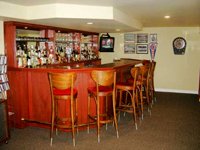 What we like about Barplan.com is that you don't have to know exactly what you want ahead of time. You can look around the site for ideas, order the plans and then tweak them to make whatever you want.
And the best part is having full access to the Builders Forum, so you have complete support throughout the project.
Do you want to build an Outdoor Tiki Bar complete with beer tapper or kegerator? How about a Wet Bar for your Billiard Room or Basement Bar Pub? Build it indoors or outdoors, pool side or on your patio. For one price, you get all of these options.
How it Works
Clicking on the button below will take you to the Barplan.com website. Feel free to browse around and check out photos and comments from others who have built their own home bar.
Remember, there is no obligation to look around first.
If you like what you see, pay a one time only fee of $19.95, get your user name and password instantly by email, then login for full access to the entire home bar design resource & plans site. You could be building before the sun goes down!