Cabernet Flank Steak
I can't remember where I originally found the Cabernet Flank Steak recipe but I do know it was several years ago and I have made it myself and passed on the recipe so many times I lost count.
I am a girl who loves anything with lots of sauce on it so I absolutely love this stuff. I did not have a picture of the finished dish so my friend provied one the last time she made it.
Unfortunately the main ingredient is missing...the sauce!!!! It is by far the best part of this flank steak recipe and I wish I had a picture which shows it. Next time I make it, I won't forget to take one.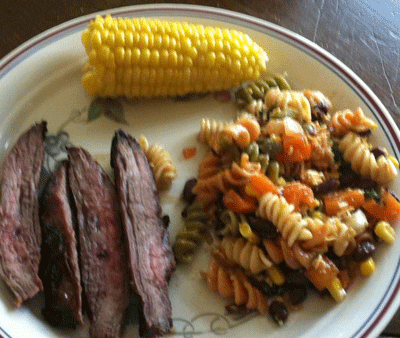 Cabernet Flank Steak Recipe
1 flank steak (2-3 pounds)
1/2 cup Cabernet red wine (or Merlot)
1/2 cup soy sauce
2 tablespoons Creole seasoning (I use McCormick brand)
2 tablespoons minced garlic
2 tablespoons brown sugar
1 tablespoon ketchup
1/2 teaspoon pepper


Place the meat in a large, resealable bag. In a small bowl, combine the other ingredients and pour over meat. Marinate in the refrigerator 4 hours or overnight.
Preheat your gas grill or use a indoor grill pan like the one below. Remove from the marinade (reserve) and place on the grill. Cook on medium heat until desired doneness (6-8 minutes per side for medium).
I sometimes use my rectangular grill pan when I'm making this dish. It gets really hot so the meat is seared on the outside and very tender on the inside. It's dishwasher safe so clean up is a breeze. You can find smaller, round versions, but if you're going to buy one, I recommend this size because it can be used for all recipes.
Transfer to a platter and rest for 15 minutes before thinly slicing across the grain. If you don't let the meat rest, the juices will run out as soon as you slice it leaving the meat very dry.
Simmer marinade for 30 minutes on low until thickened. Consistency should be like A-1 sauce. Serve sauce with sliced beef, mashed sweet potatoes and steamed green beans. Yum!
Guinness Flank Steak Recipe
I so enjoyed watching this video from bbqmyway.com. The presenter shows us how to make another excellent flank steak marinade using Guinness beer. If you are a fan of recipes made with Guinness, you might also like this recipe for Guinness Corned Beef.