Caramelized Apple Onion Salad
This recipe for Caramelized Apple Onion Salad is surprisingly simple. Using bottled balsamic dressing saves the host some time and offsets the sweetness of the apples and onions nicely.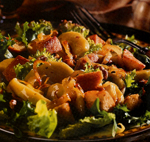 1/4 cup (1/2 stick) butter
1 large Granny Smith apple, peeled and thinly sliced
1 large sweet onion, sliced
4 cups mixed salad greens
Balsamic Vinaigrette dressing
1/2 cup toasted chopped walnuts or pecans
In a heavy, 12-inch skillet, melt butter. Over medium high heat, cook apple and onion, stirring occasionally, 4 minutes or until tender.
Reduce heat to medium and cook uncovered, stirring occasionally, 20 minutes or until apple and onion are caramelized and golden brown. Serve warm apple mixture over greens. Drizzle with dressing and garnish with nuts.