Caramelized Pork Tenderloin in Peach Sauce

(Illinois)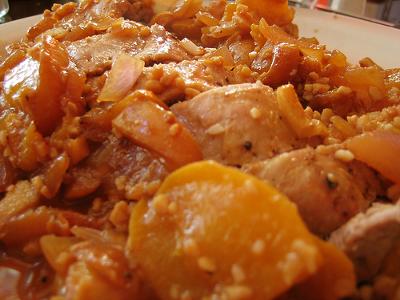 Tenderloin w/Caramelized Onion and Peaches
My hair stylist told me about this great recipe she recently tried. I couldn't remember the exact ingredients so I improvised and came up with this one:

1 pork tenderloin
2 tbsp olive oil
1 sweet onion, sliced
2 shallots minced
1/2 cup chicken stock
1 can peaches, drained and chopped
1/2 cup fresh parsley, chopped

Sear pork in heavy skillet on all sides, about 12 minutes total. Remove from pan and tent with tin foil.

Caramelize onion and shallot in pan drippings, about 10 minutes. Should be translucent and slightly browned.

Deglaze pan with chicken stock, scrapping up all the brown bits from the meat.

Add peaches and parsley and simmer 10 more minutes until sauce is reduced.

To serve, slice pork and pour sauce over. I served it with a boxed wild rice mix.

The sauce was amazing. This technique could really be used with any meat. Enjoy!

Join in and write your own page! It's easy to do. How? Simply click here to return to Easy Party Recipes.
Want To Stay In Touch With Theme Party Queen?
Here's how you do it:
Our goal is to create a community of like-minded people who like to share ideas and who are open to making new friendships. We would love for you to join us today.