Cheddar Chipotle Dip
I found this Cheddar Chipotle dip when I was on a low carb diet and was looking for a party appetizer that would work well with vegetable dippers. Something with a robust flavor that would perk up the veggies.
Well this party dip definitely fit the bill. It has become a favorite among my friends and is served multiple times throughout the year at various parties that I either host or attend.
You can make it as smokey and spicy as you want by adjusting the amount of chipotle peppers (smoked jalepenos) but watch out. You can easily go from mildly spicy to blow-your-face-off hot by adding too much!
I like the La Preferida brand which is found in most grocery or specialty markets.

Ingredients
2 cups shredded Cheddar cheese
1 cup shredded Monterey Jack or Mozzarella cheese
1/2 cup mayonnaise
1-8 oz. can whole kernel corn, drained (3/4 cup)
1-4 oz. can chopped green chili peppers, drained
2 teaspoons finely chopped canned chipotle chili peppers in adobo sauce (or to taste)
1/4 teaspoon garlic powder
1 medium tomato, seeded and chopped (3/4 cup)
1/4 cup sliced green onion
2 tablespoons snipped fresh cilantro
Vegetables, crackers or chips
Preheat oven to 350 degrees.
Stir together cheeses, mayonnaise, corn, green chili peppers, chipotle chili peppers and garlic powder in a large mixing bowl. Spread mixture into a 1 quart covered dish.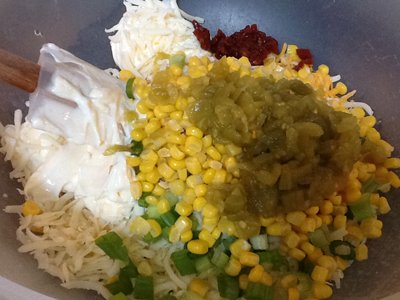 Bake for 30 minutes until bubbly. Top with tomato, green onion and cilantro. I like to make a pattern out of the toppings so I put the tomatoes all in the middle, make a ring around them with the green onion then sprinkle the cilantro over all.
Serve with vegetables, like red, green and yellow peppers. Tostido and Frito Scoops work well too.
The last time I made it was for a weekend away so I put the dip in a container, unbaked, and the toppings in baggies. When we got to our destination, I baked the Cheddar Chipotle dip and then sprinkled with the toppings. Travels easily and tastes great too!
You might also like the dip recipes found here.