Chicago Segway Tour
I had always wanted to go on a Chicago segway tour, but never got around to it until this week. A lovely way to spend an afternoon in June.
During the warmer months, I am in Chicago alot for concerts and festivals and I always see those little machines motoring all over town. The last time I saw a group of them go by was when my husband and I were at the Chicago Blues Fest. I paid close attention to WHO was riding them and how easy it was for the people to maneuver their segway.
Everybody looked very stable even when going over bumps and crossing streets. I thought, "if they can do this, certainly I can too!" So I made arrangements for me and a friend to try them out. That's me on the right.
First of all, there are several companies in Chicago that offer tours and I found out that none of them allow you to go off on your own. All are guided tours which is a good thing.
The way a Chicago segway tour works is that you make reservations for the specific tour you want. In our case, we chose the "Skyscrapper Tour" which was 3 hours long.
This particular tour is nice because you ride for a little while and then pull off while your guide tells you about certain buildings or attractions and then you move on.
We were told that the maximum number of people on each tour is 6 but I have seen bigger groups rolling through the city so I think it depends on the company and the type of tour. The day we went, we were lucky to have a personal tour as no other people were with us other than our guide whose name is Helena.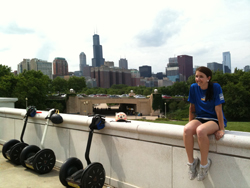 She was very informative and told us all kinds of stories along the way. You can see her in this picture.
For the first 20 minutes or so, the guide trains you on how to use a segway. You learn how to safely get on and off, how to steer it, and of course, how to start and stop your segway.
When you first get on, you have the feeling that you are going to fall off but very quickly you realize that these things are very stable. Helena kept saying, " there is a reason the segway scooter price is $5000!" They are very well made and pretty much balance themselves.
I was comfortable within about 10 minutes. It took my friend longer to get the hang of it but I think almost anybody can learn to ride one, especially if you go on a guided Chicago segway tour with someone as helpful as Helena.
We started in an area where there were no other people so that we had time to get used to our segways. The surprising thing is that they are controlled by your feet not your hands.
There are sensor pads under your feet and by putting pressure on your toes, you go faster; on your heels you slow down. Your hands are used only for hanging on and steering.
Within minutes we were cruising along the Chicago Riverwalk which is so cool. Nice greenery, little restaurants and brick paver sidewalks. Not too many people which was nice because we could go as fast as we wanted to in spots.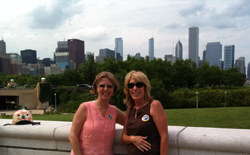 Eventually we made our way to Lake Michigan then headed south all the way along the lakefront to Chicago's Museum Campus which is where you will find the Field Museum, Shedd Aquarium and Adler Planetarium.
This picture was taken in front of the Field Museum. The view from here is spectacular. The lake was on our right, the Chicago skyline on our left and the museums were behind us.
After a short break, we jumped on our segways and made our way back, in front of Buckingham Fountain and Columbia Yacht Club, then along the river. A nice leisurely way to spend the afternoon.
All in all, I highly recommend going on a Chicago segway tour when you are in town. It is a great way to see the city from a whole different perspective. Traveling on foot or in a car doesn't even compare.
Visit our partner, Trusted Tours
, for times and prices.