Chocolate Marshmallow Pillows
by Kathy
(St Charles, MO)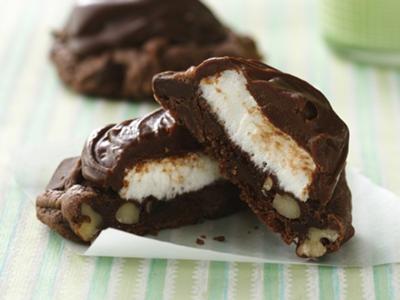 Photo Courtesy: Betty Crocker
Chocolate Marshmallow Pillows (Betty Crocker prize winning recipe, 2009)

Cookies:

1 pouch (1 lb 1.5 oz) Betty Crocker® double chocolate chunk cookie mix
1/4 cup vegetable oil
2 tablespoons water (I used 1 TBSP water and 1 TBSP vanilla)
1 egg
2/3 cup chopped pecans (optional)
12 large marshmallows, cut in half

Frosting:
1 cup semisweet chocolate chips (6 oz)
1/3 cup whipping cream or milk
1 teaspoon butter
1 TBSP vanilla
1/2 cup powdered sugar

Directions:
1. Heat oven to 350°F. In large bowl, stir cookie mix, oil, water, egg and pecans until soft dough forms.

2. On ungreased cookie sheets, drop dough by rounded tablespoonfuls 2 inches apart.

3. Bake 7 minutes. Remove from oven; immediately press marshmallow half lightly, cut side down, on top of cookie. Bake 1 to 2 minutes longer or just until marshmallows begin to soften. Cool 2 minutes; remove from cookie sheets to cooling racks. Cool completely, about 15 minutes.

4. Meanwhile, in 1-quart nonstick saucepan, melt chocolate chips over low heat, stirring until smooth. Remove from heat. Add whipping cream, butter and vanilla; blend well. Stir in powdered sugar until smooth.

5. Spread frosting over each COOLED cookie, covering marshmallow.

This tastes like a Mississippi Mud Bar cookie) It's very easy and quick. I also add a tsp of vanilla to the pkg mix. For my personal taste...I think the frosting is a little too bitter for the cookie. I made my own chocolate frosting and I liked it much better. I'm a huge fan for shaved chocolate candy bar. It adds a nice touch to the tops of the cookies.

TPQ Comment: I printed off this recipe a year ago and still haven't tried it. I love the photo of it. You can practically taste the cookies just looking at it right? Thanks Kathy for reminding me about this one.



Want To Stay In Touch With Theme Party Queen?
Here's how you do it:
Our goal is to create a community of like-minded people who like to share ideas and who are open to making new friendships. We would love for you to join us today.