Cool Costumes For Groups
Looking for some cool costumes for groups? Pick a decade and dress up in retro outfits. This photo shows some examples of costumes.

The people in the picture on the left are all close friend's so they decided to dress up in 50's attire. Two of the gals dressed as Laverne and Shirley from the popular TV show. Almost everything came from their own closets except the initials which were attached with double stick tape.
That is me in the middle of the top photo dressed like a hippee from the 70's. You could do a whole group of hippies and flower children!
The college kids on the right are my daughter and her friends dressed in 80's attire.
If you are looking for Halloween costumes for groups, picking a decade and then dressing like people did during that time is an easy and inexpensive way to go.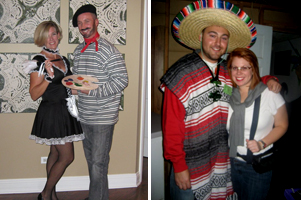 Another idea for cool costumes for groups is to choose a nationality and have everyone dress like the people from that area.
The picture on the left is of some friends of mine. They went to a French Halloween theme party so she dressed up as a sexy French maid and he was a painter.
She showed me pictures of other costumes from this party. There was a French chef, Inspector Clouseau and others. A whole party dressed in cool French costumes.
The picture on the right shows a guy dressed up in Mexican attire. This is so simple. All he did was find a Mexican blanket, a sombrero and that was it.
Some other fun ideas would be to choose African safari attire, Scottish kilts, or outfits from India like those beautiful saris made with different colorful fabric.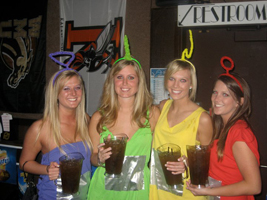 Remember the Teletubbies? Make these super easy Halloween costumes by picking up colored tshirts at a craft store like Michael's or Hobby Lobby and cutting them anyway you like.
The girls in this picture chose 4 different styles then using spray adhesive, attached a square of tin foil to the front. Reynolds makes tin foil grilling squares that would be perfect for this project.
Lastly, create the headpieces using headbands, pipe cleaners and matching material.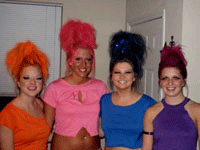 I laugh so hard when I saw these cool costumes for groups that my daughter (the one in the blue) and her college roommates came up with. They went to a Hobby Lobby or Michael's store and bought tshirts and shorts to match, all in different colors.
Then they cut up the shirts so that they would all be different, put on some heavy makeup and used coordinating ribbon for accessories like jewelry and hair bows.
The best part of these quick easy halloween costumes is what they did with their hair. Pretty cool huh? Here's how they did it:
Picked a washable hair color to match their outfit
Ratted their hair and colored it
Stood an empty water bottle on top of their head.
Gathered ratted hair up around the bottle and used a rubber band to secure hair at the top of the bottle
Accessorized with sparkles, rhinestones and ribbons
More Halloween Theme Pages