Crock Pot Corned Beef
Crock Pot Corned Beef is one of the easiest ways I know of to make a perfect, one pot meal. I usually only make it around St Patricks Day and every time I do, I ask myself why I don't make it more often. It's that good.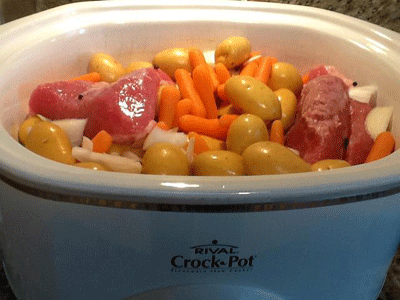 Ingredients
3-5 lb. corned beef (not beef brisket)
1 small bag of baby carrots
1 small bag of potatoes (quartered if bigger ones)
1 small onion, chopped
10 whole peppercorns
1 tablespoon vinegar
Water
Turn 6-quart Crock Pot on low. Take corned beef out of the bag and rinse, discarding pickling seasoning packet if there is one. Cut beef into 2 or 3 large pieces and place in Crock Pot.
Layer carrots, potatoes and onion on top of beef. Sprinkle peppercorns over all. Put in vinegar and enough water so that Crock Pot is half full. Do not put in more water, as vegetables create water on their own.
Simmer on low for 8-10 hours until meat shreds easily with a fork. Remove meat to a platter and slice lengthwise. Pour some juice over meat to keep it moist.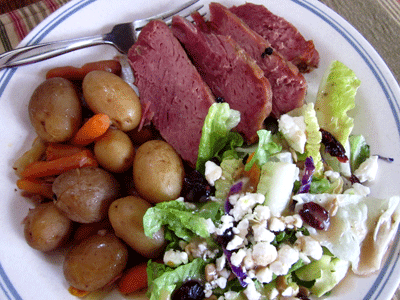 Scoop out the vegetables with a slotted spoon and put in a serving dish. Pour juice into a gravy boat and serve with meal.
NOTE: I used to take the peppercorns out before serving but now I leave them in. They soften up a bit during the cooking process and are okay to eat if you like a strong pepper flavor like I do.
You might also like this recipe for Guinness Corned Beef and other St Patricks recipes found here.