Corning Visions Cookware Review
by Sandee
(www.theme-party-queen.com)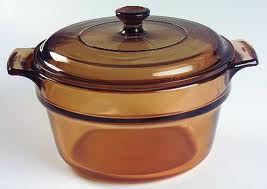 Corning Visions Cookware is produced by Corning Incorporated, an American manufacturer of glass and ceramic products which includes cookware. The company was originally founded in 1851 in Brooklyn New York but later moved operations to Corning, where the company got its name.

Originally it was known as the Corning Glass company but in 1989 the name was changed to Corning Incoporated. Today, all of the consumer cookware division is owned by World Kitchen. One of the company's most popular offerings was the Corning Visions Cookware.

Visions

Corning created a very unique product with their Visions line, each piece was completely see through giving cooks across the country and around the world an entirely new experience. You could now see exactly what was going on with your food, all the way to the bottom!

Corning Visions cookware quickly became the pots and pans of choice for many households. However, cool looking, see through cooking was not the only benefit of these pans.

Non-Porous

Have you ever cooked your favorite spaghetti sauce, enjoyed a great Italian meal only to deal with the scent and sometimes flavor of garlic in all your dishes for quite some time after? This is because many cookware brands are porous, which allows flavors and smells to be absorbed into the material during the cooking process. Corning Visions cookware is completely non-porous so this is never an issue.

Beautiful and Versatile

How many times do you place your skillet or Dutch oven on the table? Many people do but it is seldom a pretty sight! Visions is very pretty and will transfer easily from the stove to the table. You can also move leftovers straight to the refrigerator and then to the oven for a reheat, without ever dirtying another piece of cookware. Simplicity and convenience, what cook could ask for more?

What Do Consumers Say?

The company may tell you the product is the greatest thing since sliced bread, however the truth will come out in consumer reviews. This particular cookware, has a great reputation all the way around. Here are a couple of reviews to consider:

"Any cookware that can be heated to over 1500 degrees and melt the competition without damaging the pan, is a tough cookie. Many people do not realize that researchers did such an experiment with these Corning cookware sets. Of course, you should never try this yourself!"

"The only downside I have found to Visions sets is the extra care you must take. Never sit a cold glass pan on a hot burner and always allow the oven to preheat to prevent chipping or cracking. Common sense really, but it does make you take a few extra precautions that are not necessary with aluminum or stainless steel varieties."

Overall

Corning Visions cookware gets top marks from the manufacturer and consumers. Its main selling point beyond health and taste is the fact that you can use it practically anywhere and save dirty dishes in the process.



Join in and write your own page! It's easy to do. How? Simply click here to return to All Clad Cookware.
Want To Stay In Touch With Theme Party Queen?
Here's how you do it:
Our goal is to create a community of like-minded people who like to share ideas and who are open to making new friendships. We would love for you to join us today.