Cosmopolitan Martini
Several years ago, 5 of my girlfriends and I went away for a girls weekend. One of the gals loved a good Cosmopolitan Martini and decided to try to make some for us. She brought all the ingredients and started whipping up several different versions of the cocktail.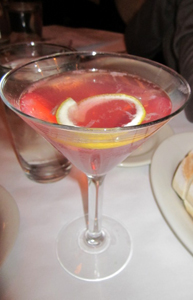 I don't know how many of them we tried before she got it just right. I am not a fan of strong alcohol tasting cocktails so I prefer more juice than vodka. If you are like me, add more juice to this recipe and you will love it as much as I do.
This recipe without the cranberry juice is a Kamizazee. Haven't had one of those since college and don't plan to any time soon!

1 (1.5 fluid ounce) jigger vodka
1/2 fluid ounce Cointreau
1 teaspoon fresh lime juice
1 1/2 fluid ounces cranberry juice
1 twist lemon
Pour all the ingredients into a shaker with lots of ice. Shake vigorously for several seconds and strain into a cocktail glass. Garnish with a lemon twist. It has quite a kick but the Cointreau and cranberry juice tone it down a bit and complement the vodka nicely.
Find more of our favorite martini recipes here and get some ideas for garnishing cocktails here.
Watch a Cosmopolitan Martini Being Made
Although this is not the exact recipe I use, this one is simple to follow and looks great too. The bartender uses Triple Sec for the orange liqueur instead of Cointreau. Either way, it's good.